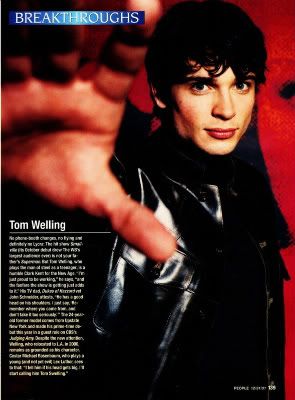 Reading about Smallville's final wrap party this weekend, and knowing that Tom will film his last scenes ever as Clark Kent later this week, has made me rather nostalgic, so I'm back with some more scans of magazine articles from the early years. You might find something that's new to you, or maybe, like me, you're just in the mood for a walk down memory lane. As always, click for BIGGER.

Rising star Tom Welling was featured as a Breakthrough in the December 31, 2001 issue of People, saluting The 25 Most Intriguing People of 2001.

Michael Rosenbaum:
I tell him if his head gets big, I'll start calling him Tom Swelling.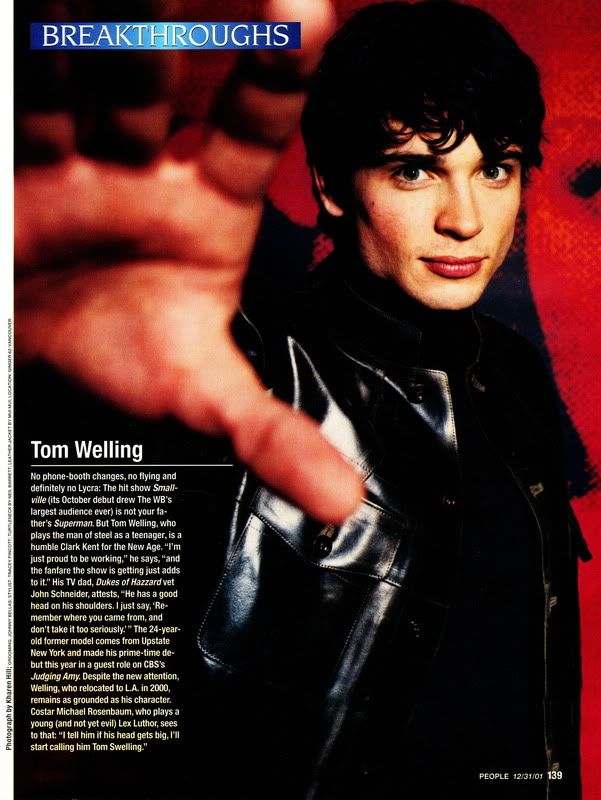 Executive producer Joe Davola and Tom were interviewed in the February 2002 issue of Cinescape (#57).

Tom Welling:
I was stunned that there was no flying. I still think the audience will be waiting for that.

You throw yourself out there and you've got to figure some things out on your own. You've got a million people telling you different things, but you really have to find the truth in yourself.




Clickable thumbnails of the entire article: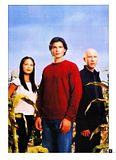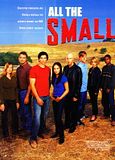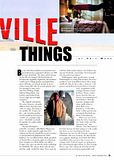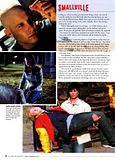 This Smallville article is from the December 6, 2002 issue of Entertainment Weekly (#685). I didn't much care for the reporter's snarky attitude, especially toward Tom, but there were some interesting quotes, and those famous Tony Duran photographs. It was also an eye-opener for me; I had no idea that critics and fans thought the show went downhill in S1.

EP Brian Robbins:
The Evil Clark episode was frickin' great and opened up Tom as an actor. He's been better ever since.

Michael Rosenbaum:
The big misconception is that it's a teen show. It's just not. [I met] a 60-year-old black woman at a Chicago concert, and she was like, "Mmm-hmm, you're Lex Luthor. I love your show."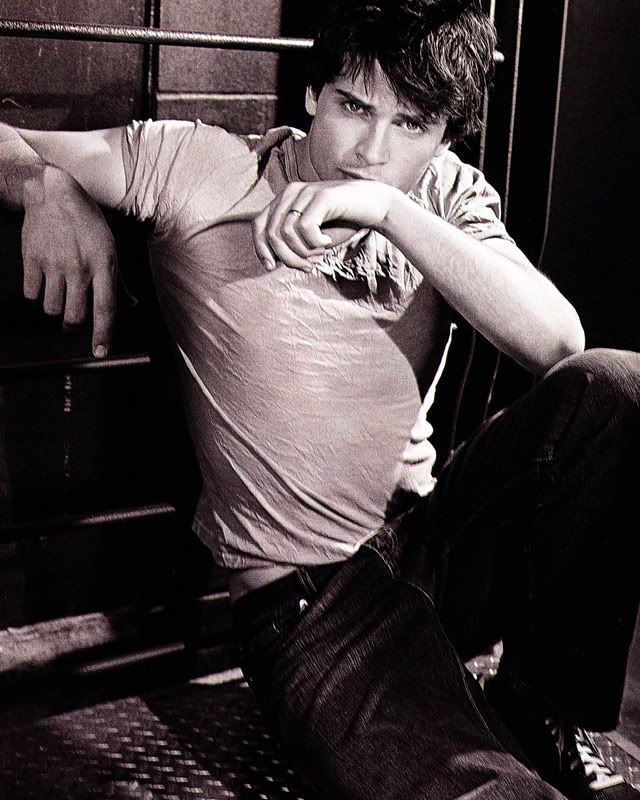 Clickable thumbnails of the article: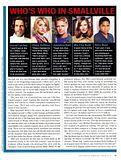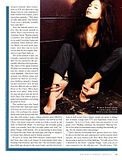 Rob LaBelle talked about playing Dr. Walden in the April 2003 issue of Cult Times (#91). He tells the same story about laughing through his scenes that Tom and Michael did on the Rosetta commentary.

I spent my first couple of days working with Michael Rosenbaum, who I found enjoyable to act opposite. He likes to experiment, and by that I mean he's always thinking and trying different things, which I truly appreciate. I had a ball filming the cave scenes with him, Tom Welling, and Allison Mack. At one point we were laughing so much that I didn't think we would get through a take.





Before he changed his name and became famous for playing the vampire with a heart of gold, Paul Wesley was Paul Wasilewski, and he guest starred on Smallville as Lucas Luthor, Lex's evil half brother. He talked about his experience on the show in the May 2003 issue of Cult Times (#92).

First off, I think Tom plays a good superhero in the making. Superman is meant to be this well-rounded, neutral, Everyman kind of guy. He represents Good in all its forms, so the contrast between our two characters was really interesting. We had this little basketball scene where Lucas starts to get under Clark's skin and it was cool to see Superman have a little bit of a temper. It felt great to know that I could get that much of a rise out of him.

Here's what director Greg Beeman said about that same scene, in the S2 Smallville Companion:

[It was] the moment I noticed Tom Welling become a leader behind the scenes as well as being the lead of the show, which is the best thing for a series. If the series lead is a selfish, self-involved person, it really is a disaster. We ran out of time shooting the basketball scene when Lucas comes in and plays with Clark and Pete. I had an hour and a half to shoot the scene, and Tom just stepped up. He pulled the actors together, and told them what he was going to do, and in a matter of ten minutes he had choreographed the whole scene. Tom was almost like a quarterback on the fly, making it up. Even as director, I wasn't in a position to make that scene happen in the timeframe unless Tom did exactly what he did. He might already have become it, but that was the moment when I noticed Tom become the leader behind the scenes.





The interviewer in this article in the November 2004 issue of SFX (#123) tried to create innuendo where there was none, and I wasn't crazy about her sense of humor, but I did appreciate this tidbit she shared about Tom:

When the unassuming Welling made his way onto set for rehearsal, every single member of the show's production crew (completely unprompted) commented on how special he was "as a man" and how much he brings to their production.

Tom had some interesting thoughts about the scene in Obsession where Jonathan walks in on Clark and Alicia:

It was interesting because the scene in the bedroom was important. It was the icing on the cake, for Clark to find someone he could be with physically and emotionally - as he believes at the time. Of course, later he finds out that he was wrong. But it's important to realize that when he goes downstairs, Clark's apologizing for what he did and how he did it, but he's still not sorry that it happened. I think we did a pretty good job of having Jonathan and Martha recognize that, as in realizing that their son was growing up and acknowledging how important this girl was to him. That scene was important because it's absolutely the opposite of all the other scenes we've ever done before.




Clickable thumbnails of the article: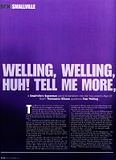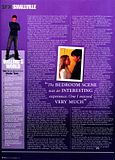 And finally, this S4 Tom Welling interview from the April 2005 issue of Dreamwatch is one of my favorites. Both the questions and answers are thoughtful, and Tom gives us some wonderful insights into the show.

I'll tell you that I honestly don't remember the first season. It was so big and we were so out-of-control with the production, that I don't remember it. I can watch the first season DVD and sometimes not know what's going to happen next. People tell me stories of things that I did and I just don't recall. Back then we were working 20 hour days with three hours of sleep; it was incredible.

What I particularly enjoy about [Lois] is the side of Clark that she brings out. I love the sarcastic, tongue-in-cheek humor that we're able to portray in that relationship, and haven't been able to in the past because of the heavy, dramatic situations that Clark often found himself in with the other characters.

Erica and I get along great. We did from day one. With respect to Clark and Lois, I think Erica and I get along so well that we have to remind ourselves that Clark and Lois aren't necessarily supposed to get along so well. I'd sum up Clark and Lois' relationship as playful - they love and hate each other at the same time.




Clickable thumbnails of the article: