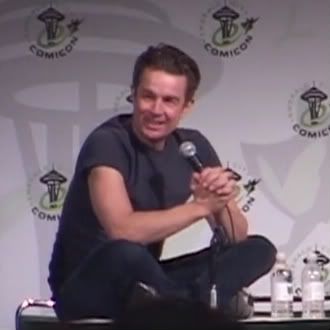 James Marsters did a panel at Emerald City Comicon on March 4, 2011, and Pop Culture Zoo was there. They brought back a wonderful video, which you can watch below. James is his usual awesome self: intelligent, articulate, thoughtful, funny, and immensely entertaining. He talks about Buffy, Torchwood, Hawaii Five-0, his new pilot Three Inches, his music, and more (the only thing he says about Smallville is that he would gladly go back if they asked him).

He shared some insights about being attached to a long-running series, and what it feels like when that is over, that I found especially interesting because I've been thinking about Smallville ending so much lately. Here's a partial quote:

In film, you might have to do a really weird thing. You might have to do something that scares you, or something that you're not even prepared to do. And if you read a script in film, and you're not prepared to do that in front of a camera, you call your agent and you say, "I pass."

In television, you're contractually obligated to do anything that they tell you to do. Seven years. But the safety is that you're basically telling the same story over and over every week, so there's no real danger. But on Buffy, you had no idea what they were going to ask you to do, and I came to a point where I realized that I was on call, five days a week, 24 hours a day, I had to wear or not wear whatever they said, and do whatever they said, to whoever they said to do it. And at some point that becomes terrifying.

All I can say is, knowing what the Smallville writers are capable of, I would be pretty nervous when a new script arrives. James also talked about doing other projects while you're on a series:

No, there's just no time. People who are on television series and rush out during the summer to make a movie, usually pick any movie that's filming in the summer, and it turns out to be junk. So, the best thing to do is just concentrate on that role, and when that role is done, find another role.

My favorite quote of the panel was what James answered when a fan asked if one of those moments that terrified him was when he read his Torchwood script and found out (to use her words) that he had to make out with John Barrowman:

No, no, no, no. No. No. When I read the script for Torchwood, I'm a subversive artist, which is to say, that we are all taught things in this culture that are lies. Things like old people are boring, or you can buy cool, or that gay people can't be heroes, right? And so when I read that script, I was like, oh, this is my alley, man. This is exactly, like, if I was producing theater, I would produce this script. This would be something that I cared about. So I was, no, I was full-on the whole time. And John is a GREAT kisser.



If the embed doesn't work for you, watch the video at Pop Culture Zoo

HERE

.