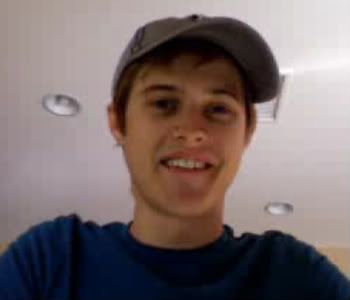 Lucas Grabeel (Conner Kent) hosted a live video chat for his fans this morning, and answered a few questions about Smallville. I loved what he said about Tom.

Smallville was just last night, and I got to work with Tom Welling, who plays Clark Kent, which was pretty cool. And I have to say the first time I met him, I really thought he was Superman, because he acts just like him. I mean, on and off the set, he's just so proper and nice and a good-hearted guy. He just acts like a hero all the time. Tom's a lot of fun. After ten years of doing the show, he's definitely comfortable with everything on set, and so we had a lot of fun, a lot of laughs. [02:11]

As far as I know, that was my last episode [of Smallville]. They haven't told me any more about that. [11:12]

Yes, I like Erica Durance, she is awesome. She's really fun to work with. We had a crazy couple of scenes yesterday on the episode, which were a little difficult to film just because it's so intense or whatever, but it's awesome. She's a pro, so it was a lot of fun. [17:48]

Superboy spin-off! I know, c'mon, really? Totally! They should do it, right? Everyone lobby! Call your local CW representative and lobby for Lucas Grabeel to be Superboy for... ever! I'm just kidding. [29:07]

You can watch the entire chat at Ustream

HERE

. The quotes I transcribed are time-stamped above.

In other news, Serinda Swann (Zatanna) talked to Christina Radish for Collider about her new show, Breakout Kings, and gave Smallville a little shout-out:

Smallville was just a blast. What an amazing group of cast, crew, writers, directors, and everybody. It was just a pleasure to be on their set, anytime.

Read the full interview at Collider

HERE

.