There's no point in putting this spoiler behind a cut, it's too big to contain! TVLine gave us the scoop tonight, and Michael Rosenbaum himself confirmed it on Twitter: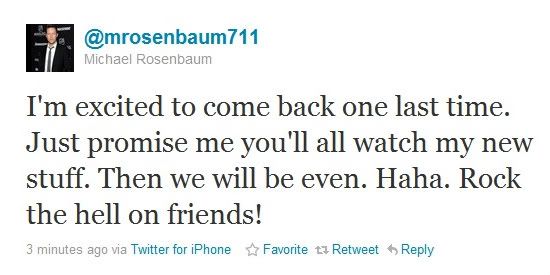 Michael told TVLine:

I'm delighted to return for the series finale. I'm simply doing it for all of the fans out there who made Smallville the great success it is. I appreciate all of their passion, their relentlessness, and even their threats. Ha ha. I can't wait to hug the old crew back in Vancouver one last time and see all of my old friends once again. Oh, and for Lex to become the bad-ass he's destined to be.



SOURCE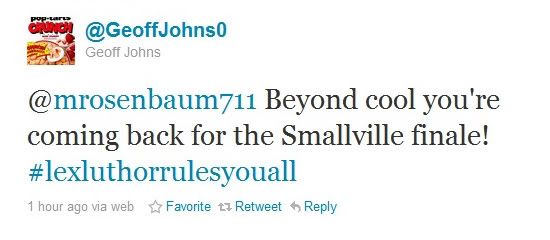 Wow. An amazing episode tonight, followed by the best Smallville news EVER. I am in heaven. But just to be greedy, now I'm hoping for Greg Beeman to direct! :)

ETA: And it's confirmed! Greg Beeman will direct the Smallville series finale! Yay! From his blog, Beaming Beeman:

Just wanted to blast off some news that makes me very happy. About two weeks ago, completely out of the blue, Kelly Souders and Brian Peterson called me and asked if I was available to direct the series finale of SMALLVILLE. I was and... After doing a couple of backflips... I gladly said yes!

Also - As I'm sure you have all heard by now. my good friend, Michael Rosenbaum has just announced that he will be back for the finale as well. So - the cosmos is moving in perfect synchronicity. We have talked and we are both really excited to reunite. He really wants to do the right thing for the fans! It all just feels so right! The old gang will be together again. I am happy.

Read his entire post

HERE

.

I don't think I could wish for anything more. ♥

ETA2: Greg Beeman has added the news that he'll split directing duties with James Marshall, the same way Tom Welling and Glen Winter did on Absolute Justice. I'm totally cool with that. James Marshall has always been one of my favorite directors, he has one of the longest histories on the show, and it makes perfect sense for him to be involved with the finale.

P.S. -- As announced by the CW - The series finale will be done as a two parter. As of this moment James Marshall will be directing the first half and I the second. James and I are soul-brothers.