We have some new Smallville spoilers this morning! From Matt Mitovich for Fancast:

It wouldn't be the final season of 'Smallville' if Clark's mother didn't put in an appearance (or more). To that end, Fancast has learned that original cast member Annette O'Toole will reprise her role of Martha Kent in Season 10's 13th episode, titled "Beacon."

A show rep also has confirmed for Fancast a return timetable for Allison Mack, who is only booked for five episodes this season: The actress will be back as Chloe in Episode 12, "Collateral."

Both episodes will air in early 2011.

Read more at Fancast

HERE

.




Yay! Michael McKean confirmed a few days ago that he will be returning to the show as well, in response to a fan question on Twitter. No word on if it will be in the same episode as AOT, though. Matt also had this little tidbit to share in today's The Big Tease:

I can tease that Aquaman's wife, Mera (played by Elena Satine), doesn't enjoy the warmest welcome from a certain intrepid lady reporter in this Friday's episode, which was directed by Tom Welling. Could it have to do with Lo's onetime flirtation with the fishy fella?



SOURCE



From TV Guide, scoop and a hot pic: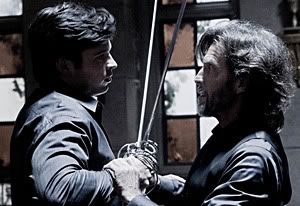 As Smallville races — faster than the proverbial speeding bullet — to its series finale in the spring, familiar faces continue to pop back into the world of Clark Kent (Tom Welling). Even dead people. Lionel Luthor (John Glover), pushed out of a building to his death by son Lex in Season 7, returns to the CW drama on December 3 for the first of four episodes. Then, on December 10, Michael Shanks makes his final appearance as Hawkman and Chloe (Allison Mack) returns, briefly. (She'll be in four more episodes before the series ends.) "It is a great cliff-hanger going into the spring run, because there are a couple of pretty big twists in that episode," says executive producer Brian Peterson. "Things don't go very well for our heroes. Just when Clark is on top of the world, things kind of crash down around him."

Read more sci-fi scoop at TV Guide

HERE

.

Tom with a sword?! *faints* And I had no idea John Glover was going to be in four episodes. That's exciting news!

Promos for this week's episode, directed by Tom Welling:

Smallville "Patriot Preview Clip":



Smallville "Patriot Preview":



So is the jury duty story for real, or is Lois just saying that? I mean, I assume she knows that Tess is part of Clark's team, so there's no reason to lie to her about what he's doing. If she's telling the truth, does that mean Clark won't be around much in this episode?