Thanks to TV by the Numbers, here are episode descriptions for the next four episodes of Smallville, from the CW's press release about November Sweeps. The one for Patriot is new to me. I'm not looking forward to more torture scenes, and of course the description makes me wonder if Patriot was deliberately written to be Clark-lite, but I'm thrilled to see Tom direct again!

Friday, October 29

•Smallville — "Harvest" (8:00-9:00 p.m.)
Concerned about Lois' (Erica Durance) safety, Clark (Tom Welling) diverts her away from covering the Vigilante Registrations Act, but an angry Lois tells him that she can take care of herself. When a flat tire strands their car in the middle of nowhere, Lois ends up in serious danger.

Friday, November 5

•Smallville — "Ambush" (8:00-9:00 p.m.)
The General (guest star Michael Ironside) and Lucy Lane (Peyton List) decide to drop in on Lois (Erica Durance) and Clark (Tom Welling) for a surprise Thanksgiving dinner. Clark and the General get off to a rocky start after Lois' father bashes the superheroes and tells Clark he is trying to pass a vigilante registration Law.

Friday, November 12

•Smallville — "Abandoned" (8:00-9:00 p.m.)
TERI HATCHER GUEST STARS AS ELLA LANE — Lois (Erica Durance) finds a video made for her by her mother, Ella Lane(Hatcher), before she died. After watching the tape, Lois makes a drastic decision about her relationship with Clark (Tom Welling) that takes her to the Fortress, where she comes face to face with Jor-El and Lara.

Friday, November 19

•Smallville — "Patriot" (8:00-9:00 p.m.)
DC COMICS CHARACTER AQUAMAN RETURNS WITH HIS WIFE MERA; TOM WELLING DIRECTS AND MICHAEL HOGAN ("BATTLESTAR GALACTICA") GUEST STARS AS COL SLADE. — In an effort to protect the rest of the team, Oliver (Justin Hartley) decides to register for the Vigilante Registration Act to see what the government plans to do with the new Law. As he suspected, it was a trap to lure superheroes to an undisclosed location where he is confined to a jail and subjected to a battery of brutal tests under the supervision of Col. Slade (guest star Michael Hogan, "Battlestar Galactica").



SOURCE



From E!Online's Watch With Kristin, a sneak peek of Lindsay Hartley as Mad Harriet in Abandoned: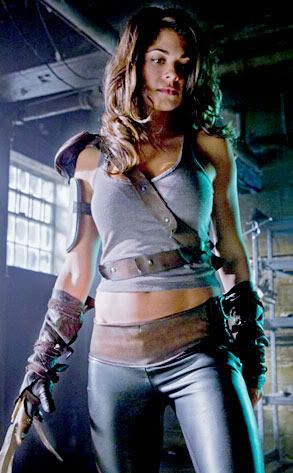 Those Hartleys make a very attractive family! Read more about Lindsay's character at E!Online

HERE

.