New Hellcats episode tonight! Have some links while you wait. :)

1) Carina MacKenzie from Zap2it has posted a wonderful interview with Matt Barr, where he delves deep into his character, Dan Patch, and his feelings for both Marti and Savannah. He also teases quite a bit about what's coming up on the show. Read the interview and watch video of Matt

HERE

.

2) We've already heard that Aly and A.J. Michalka have written and recorded a theme song for Hellcats, that we will hear for the first time in episode 1x06. In a recent interview, A.J. shared that the song is called "The Longhair." What do you suppose that means? Read the interview

HERE

.

3) The Hellcats cast recorded a special message for Tyler Wilson and other kids who are the victims of bullying.



4) Have you seen the BTS footage of Aly Michalka recording her cover of Sting's "Brand New Day" for last week's episode of Hellcats? Watch it on YouTube

HERE

.

5) Aly gets some advice from national cheerleading champions the Xtremes. Thanks to

Hellcats TV

for sharing this video on YouTube!



6) Another interview with Kevin Murphy and Gale Harold at PaleyFest has surfaced! This one is from Crave Online.



7) Las Vegas Weekly posted a write-up of Ashley Tisdale's weekend in Vegas with her Hellcats castmates, along with some pics, including this one: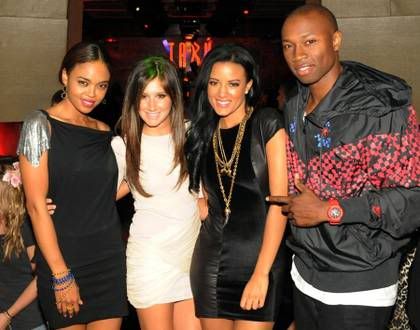 I had no idea Sharon Leal was there, too! Read the article

HERE

.

8) Ashley Tisdale talked to People at the Wet Republic party. Read the article

HERE

.

9) Heather Hemmens is featured on the cover of Steppin' Out Magazine! Check it out online

HERE

.

10) Jeremy Wong talked to American Cheerleader Magazine. Read the interview

HERE

.

11) Elena Esovolova posted a link to

THIS

interview on her Twitter page. I still haven't seen anything official, but it looks like she may no longer be with the show.

12) E!Online's Watch With Kristin had some Hellcats scoop in this week's Spoiler Chat. Check it out

HERE

.

13) TV Guide's Mega Buzz had Hellcats scoop this week, too. Read all about it

HERE

.

14) And last, but certainly not least, Aly Michalka, Matt Barr, and Heather Hemmens will be live-tweeting during tonight's episode! Hellcats Fans has all the details, read their entry about the event

HERE

.

ETA: And the links just keep on coming! :)

15) Laura Prudom from TV Squad visited the Hellcats set and talked to Aly, Ashley, and Matt. Read all about it

HERE

. The article also includes a video interview with Gale Harold at PaleyFest that is not to be missed!

16) Aly talks to She Knows. Read the interview

HERE

. Thanks to

Hellcats Fans

for the heads up!

17) TV Guide asks, is there really such a thing as a cheerleading scholarship? Go

HERE

to see the answer they found.

18) Myspace did a fascinating in-depth interview with Robbie Jones, and included some gorgeous pics! See them and read the interview

HERE

.

19) Hollywood Life talked to Heather Hemmens about the awkwardness of filming Hellcats' sexy make-out scenes and more. Read the interview

HERE

.