I continue to be buried in work to an insane degree, but these new pics from Supergirl made me stop dead in my tracks. Why so pretty, Tom?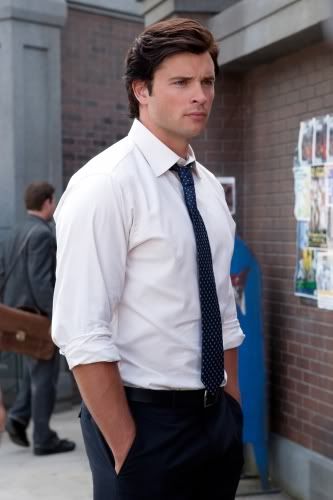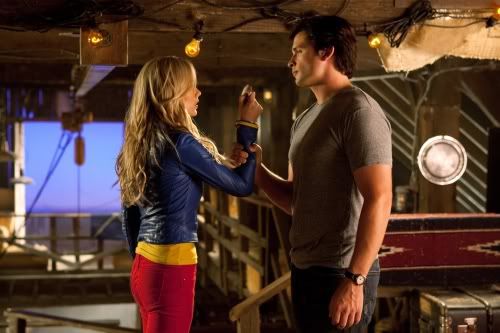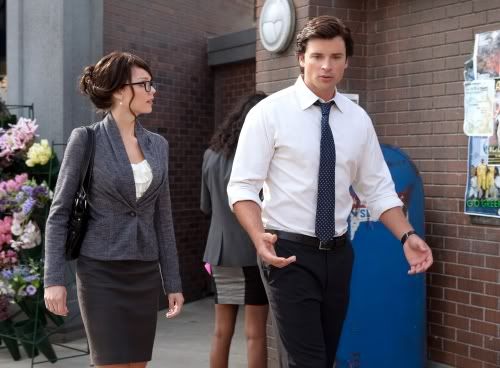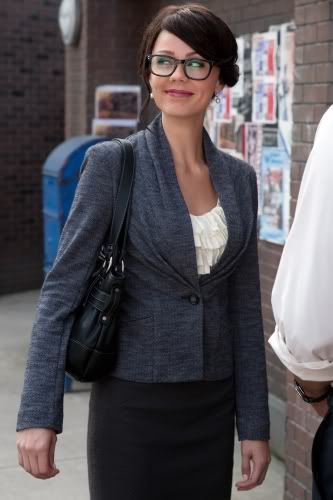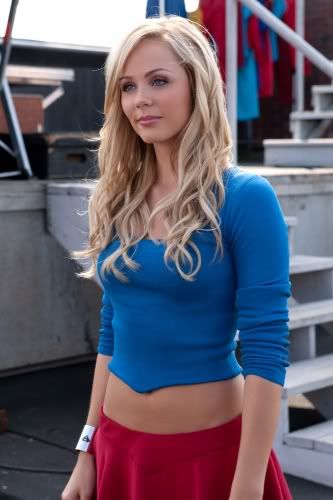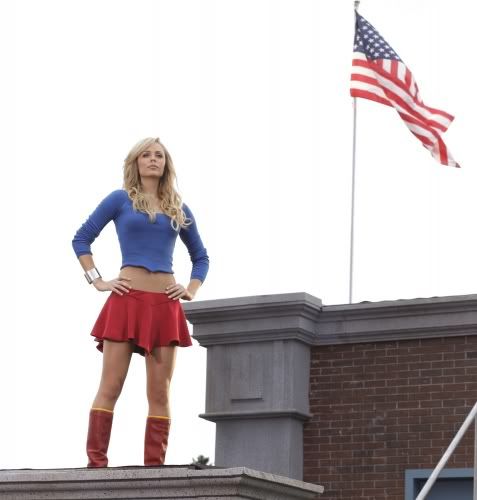 Pics courtesy of

TV Overmind

, with my thanks! Plus one more from

@MissMarisM

(Marisa Mineo, CW publicist) on Twitter. Yum!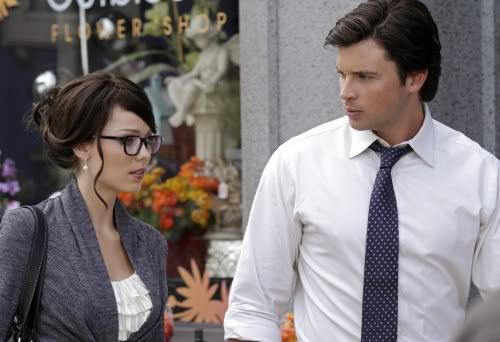 Matt Mitovich from Fancast asked the cast some fan questions on the red carpet at Smallville's 200th episode party in Vancouver. Yay for my friends who submitted such awesome questions!

Kara (played by 'V's Laura Vandervoort) is returning to "teach" Clark something that will help him become Superman. Does Kara learn anything from Clark? – Christine S.
Indeed, she does. Tom Welling, though, had to think for just the right words to tease that lesson learned. "Clark teaches her that sometimes…. How do I word this?… that sometimes you don't need a lot of attention to get the job done." That sounds like a reference to how Kara/Supergirl becomes a bit of a celebrated media darling during her Oct. 8 visit.

Last season, the interactions between Tess and Clark tended to be pretty intense and violent. How would Cassidy Freeman describe their interactions this season? – Valerie
Through Episode 8, "They've been pretty professional," Cassidy answers. "I think Tess is still trying to prove herself to him and let him know that she's on his side – and he's hesitant to believe her, understandably. So they're still playing that cat-and-mouse game."

Read more questions and answers at Fancast

HERE

.

At the same event, Natalie Abrams from TVGuide.com talked to Keri Lynn Pratt, who plays Cat Grant in this Friday's episode, Shield.

She's been assigned as Clark's partner, and Keri Lynn Pratt tells TVGuide.com that her character may have a bit of a crush on Clark, adding: "She gets herself in trouble and gets herself in the middle of things often."

How will Lois feel about Cat once she returns from Africa?

"I don't think she's thrilled about it," Pratt says. "I think Cat just annoys her more than anything. I don't think she's threatening, I think she's just annoying."

Read the full article at TVGuide.com

HERE

.

Smallville "Shield Preview Clip":



Smallville "Shield Episode Preview":



I think she's pretty annoying myself. :) My Cat Grant has always been Tracey Scoggins from Lois and Clark, and Smallville's version couldn't be further from her sultry seductress, but I have liked the actress in other things, and Cat's interactions with Clark could be cute. I like the clips. It's fun to see Ollie in full-on Green Arrow mode again, and Justin's great at being Mr. Cool in the face of Cat's near hysteria. But does she seriously live at the Talon?! LOL!

ETA: More Smallville news! Eric Goldman from IGN talked to Allison Mack about what lies ahead for her on the show, and her hopes for how Chloe's story will wrap up. Read the interview at IGN

HERE

.