Last night was the Smallville 200th episode party, and a group of TV journalists were on hand to interview the cast on the red carpet. Some of them posted tweets and pics live from the event, and I thought I would share my favorites.

From

@CatTVSource

(Catalina Walsh from KTLA):

Smallville - Back from the 200th Ep Party. I got GREAT interviews and will start editing a couple now.

The cast and creators of Smallville have a message for you!



See a bigger version of this vid, plus a tour of the party room before the guests arrived, at KTLA's Smallville page

HERE

.

From one of my favorite people on Twitter,

@cadlymack

(Carina MacKenzie from Zap2it):

Smallville 200 party tonight! What does one wear to interrogate Tom Welling?

After shopping tirelessly I finally found my red carpet outfit.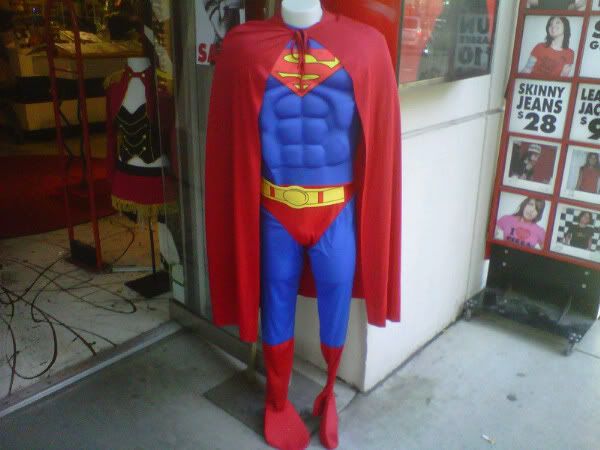 200th ep is going to be pivotal for the Clark/Lois romance, says Peter Roth, head of WB. It'll be romantic and very fulfilling.

Heyyyyyyyyy Tommy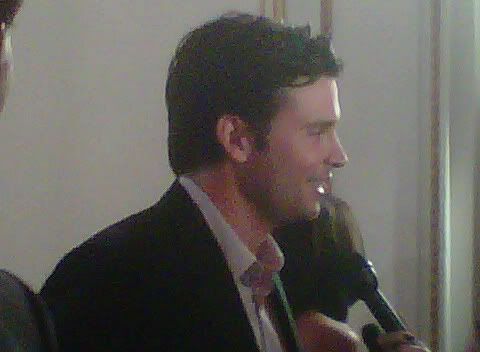 They just shared a bigggg hug. "Oh my god, she's alive!" Tom says. "He has trouble separating fiction from reality" Allison explains.




Drop dead gorgeous.




Everyone is so happy to see each other!




So nice to talk to Tom again. He's wonderful and so deserving of everything good that's come his way. He greets all of us like old friends.

I have such a girlcrush on Durance. Her dress is stunningggg.

AMack has the most awesome hair.

Cassidy's style is so cute. She's amazing. I want to be her BFF.

Interviewed EVERYONE. The Hartleys must have the most beautiful babies. And Tommmmmmmmmm.

Lex's clones will take the place of Rosenbaum if necessary, but Tom would like us to start a petition asap.

Also, for those asking - MR isn't holding out bc of the hair thing. They've apparently okayed the bald cap and it's still no.

I have video of EVERYONE :)

While I was interviewing Tom, the reporter next to me (a dude) started to cry -- just overwhelmed from having talked to Tom.

Tom paused our interview to talk to the reporter (from Space TV in Canada) and show his appreciation. Seriously - SUCH a great guy.

Yes, I think I do have video of Tom talking to the reporter who cried -- not sure if I'll post it, but maybe. He was incredibly gracious.

I can't get over how great Tom is!

From

@skesser

(Susan Kesser, WB publicist for Smallville):

Wow. Tom Welling is amazing. He just made a reporter on the red carpet cry.

The reporter has watched for the 10 years and was so touched to get to speak with Tom.

They just showed the Smallville cast & crew the reel from Comic-Con. Everyone is going wild! So much love and talent in this room.

WBTV President Peter Roth is giving such a warm, amazing speech thanking the producers, writers, and now the cast.

"We are so incredibly proud to know each and every one of you. Thank you for 10 incredible years." - Peter Roth

Smallville's 200th! (Fridays at 8pm, CW)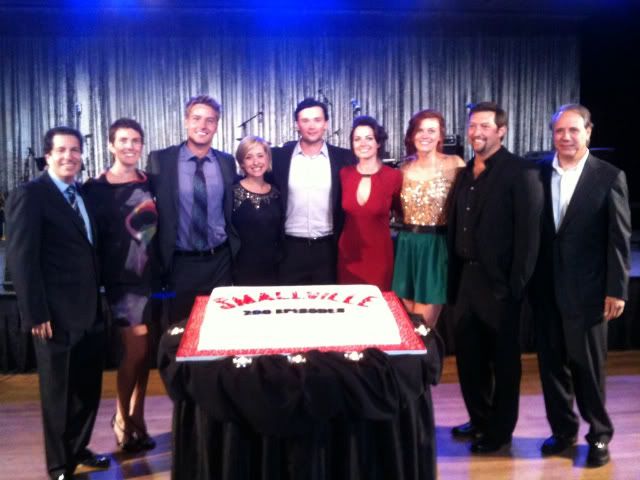 *click*

From

@TeeVeeGal

(Tammy Golihew, WB publicist):

Heading off to Smallville 200th eps event. Wow, what an achievement

Walking down David Nutter who directed the Smallville pilot. Genius beautiful pilot.

Tom Welling. So wonderful and amazing on red carpet.

Smallville pr goddess

@skesser

w/Tom Welling.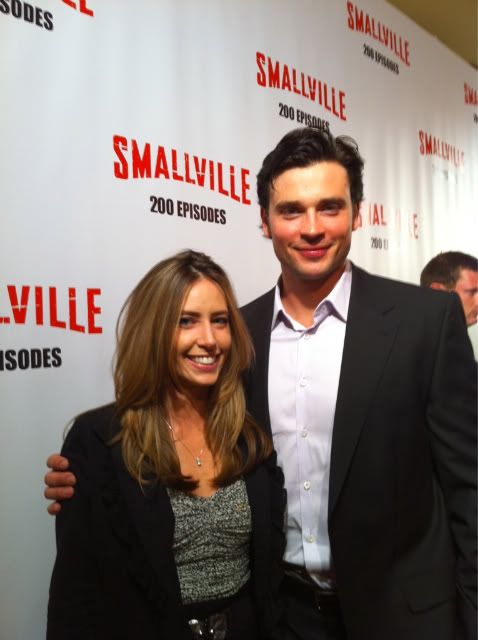 *click*

From

@NatalieAbrams

(Natalie Abrams from TVGuide.com):

Justin Hartley the first to arrive at the Smallville party

Wasn't paying attention. Look up and there's Tom Welling. Wow

Allison Mack has arrived




Justin Hartley and Tom Welling




Tom Welling




Allison Mack and Erica Durance


@cassidyfreeman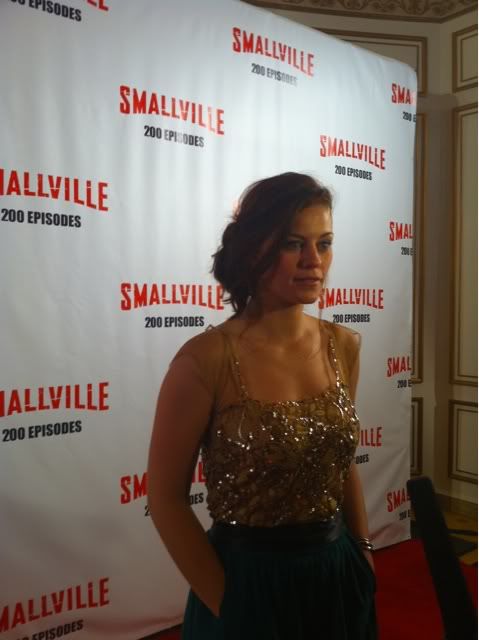 Boys of Smallville




Lots of great scoop from Smallville, including that Lindsay Hartley is playing Mad Harriet and so much more I can't think straight.

Erica and Tom both said great things about the Lois & Clark development, Erica gushed about how she cried tears of joy hearing about Hatcher

By far my favorite pic of the night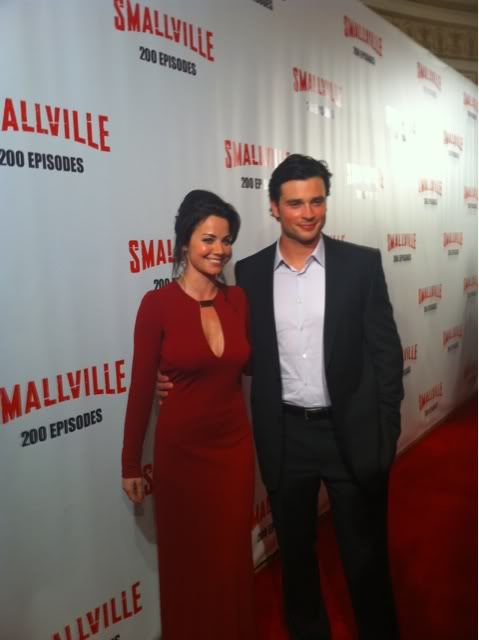 From

@MattMitovich

(Matt Mitovich from Fancast):

So, I'd say the evening is off to a good start - just unexpectedly ran into/chatted up Smallville's ED :-O

First up: WBTV prez Peter Roth, then the Hartleys....

Allison Mack is in da house, and looking dynomite!

Justin, Tom and (background) Lindsay Hartley


*click*

I tried, oh how I tried, to get Episode 10 title from Brian + Kelly. All they'll say: 'You'll LOVE it.'

Super couple


*click*

Will Clark and Lois exchange ILYs in Season 10? 'There will be epic romance,' says Brian P.

Granny Goodness is NOT being played by Betty White or Cloris Leachman.

Erica Durance on Smallville episode 'Harvest': 'It is AWESOME. I get to wear a bonnet!'

Justin Hartley is directing Episode 20 (no title yet, obv).

Cassidy Freeman's #1 wish for Smallville Season 10: Michael Rosenbaum's return, so Tess and Lex can have 'the ultimate throwdown.'

Lindsay Hartley says her Smallville character, Harriet, has quite the fight with Tess.

To answer a reader Q: Yes, the big Clois moment at end of 'Homecoming' happens in present time. (No one would spill, tho!)

Smallville's Erica Durance says the General and Lucy surprise Lois with their visit - and catch her in 'a REALLY embarrassing situation.'

Allison liked my theory that it was Chloe 'they' were after anyway....

Smallville's Mack on Chloe's sacrifice: "She knows it's her goal in life to make sure these men can do what they need to do in the world."

she said 'men' while gesturing to Tom and Justin on either side of her ;)

Allison Mack hopes to be back shooting her 2nd Smallville episode by November.

Erica actually prepped for 'Abandoned' with Michelle Harrison's audition video that hit the Internet a few weeks ago.

Smallville's Tom Welling re my 'I'm Tweeting This' T-shirt: "Thanks for the warning!"

Full ED Q&A coming this week.

The Tom Welling-directed Smallville "Patriot" episode involves "dolphins, explosions, Aquaman and Aquaman's wife."

This always gets lost in the shuffle as we scoop this, scoop that: Smallville's Tom Welling is SO nice.

From

@EricIGN

(Eric Goldman from IGN):

Arrived at the Smallville 200th episode party. Some pics...


*click*



*click*

Inside main room (obviously, party has not begun yet!).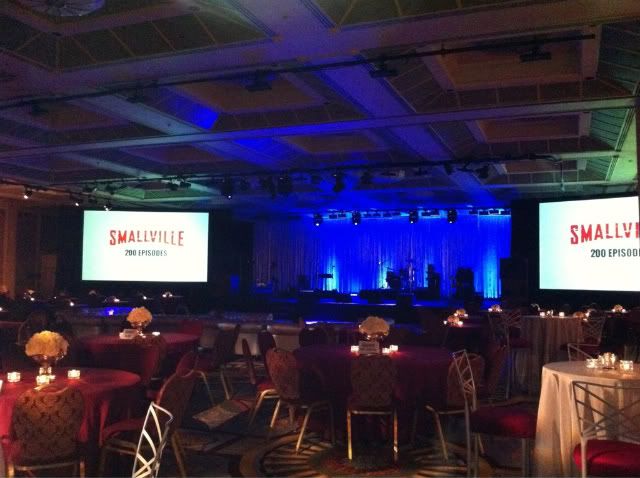 *click*

A table worthy of a Man of Steel...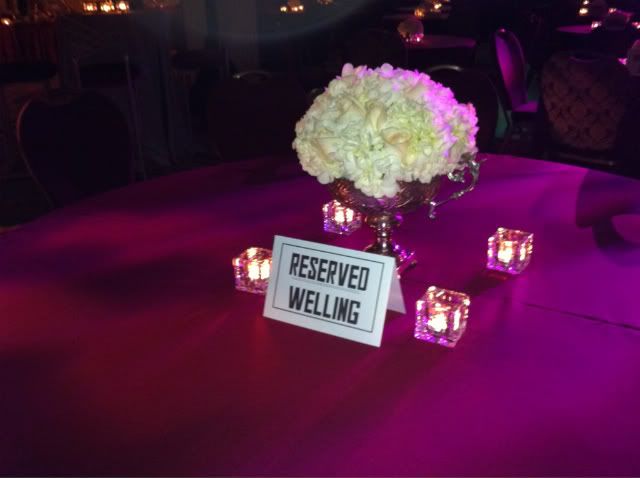 *click*

A bit out of focus, but Smallville fans should enjoy this pic of Alison Mack & Justin Hartley at ep 200 party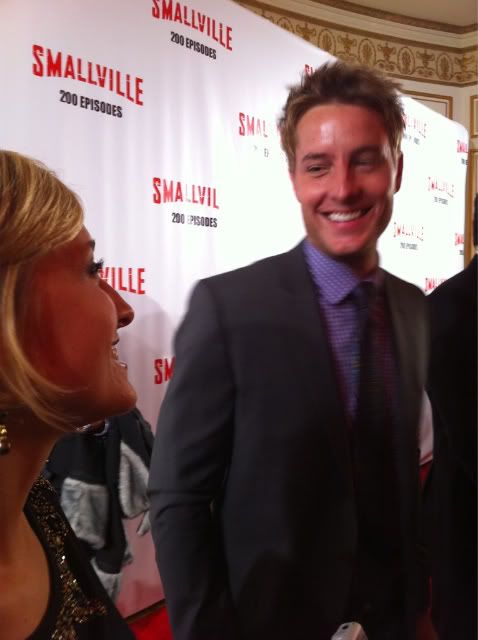 *click*

And here's Tom Welling. Dare I say he's a "super" nice guy? I do!


*click*

Lois and Clark, folks! Some Tom Welling and Erica Durance action for ya at Smallville 200


*click*

The always rad (yes, I love that word!)

@cassidyfreeman




*click*

Behind the scenes!

@MattMitovich

talks to Erica Durance while

@NatalieAbrams

talks to

@cassidyfreeman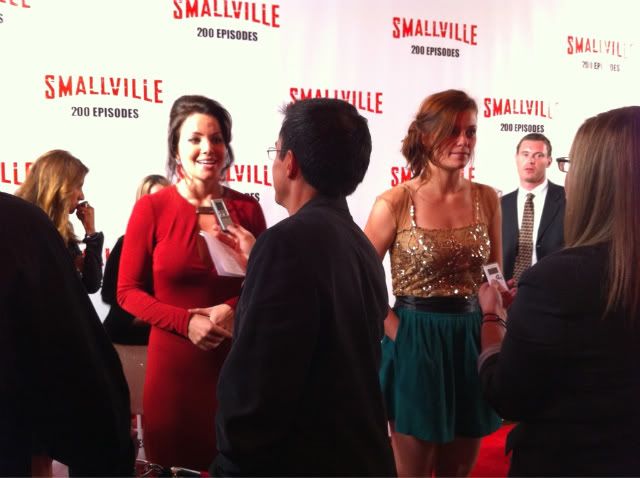 *click*

Pics from

@kryptonsite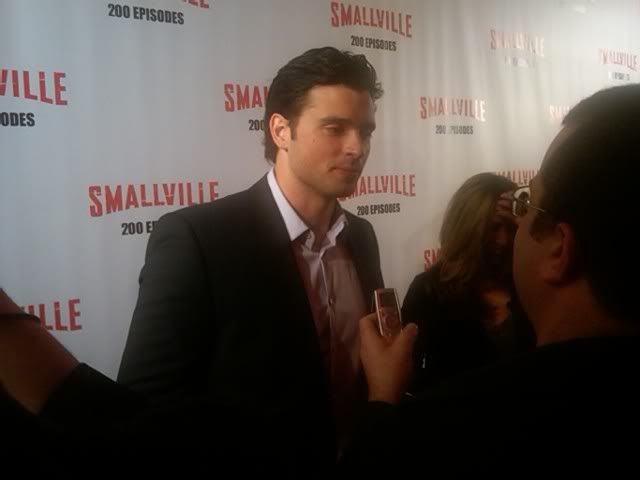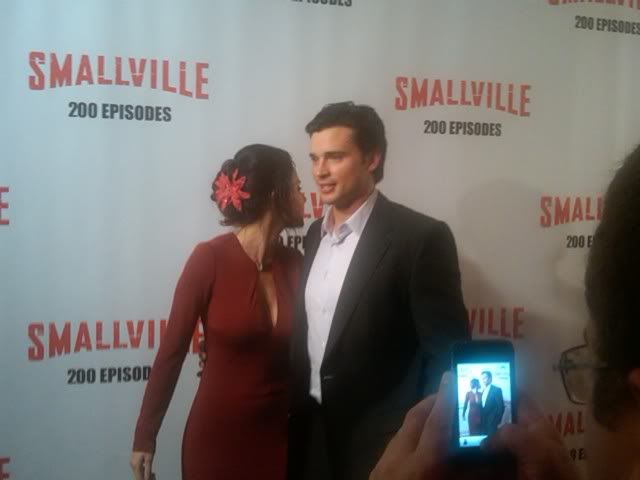 Pics (cropped) from

@JimHalterman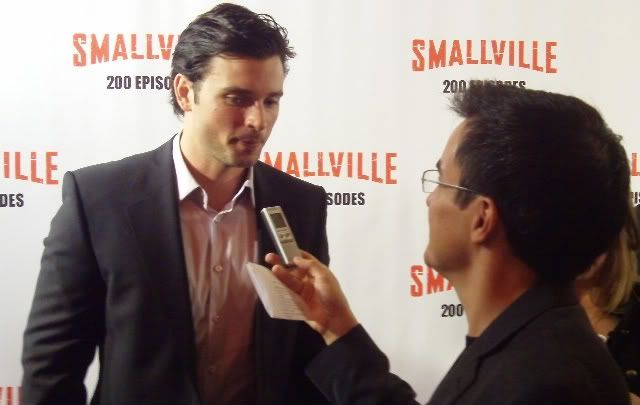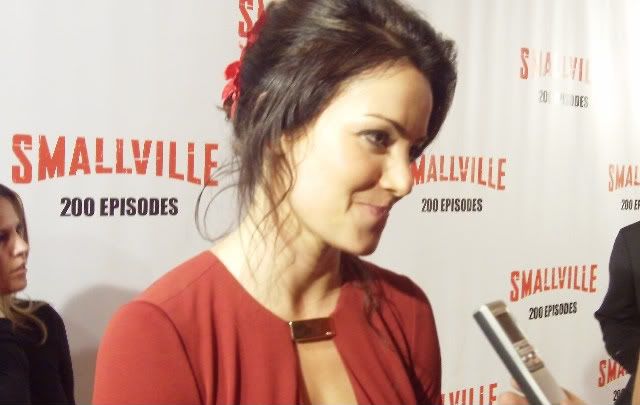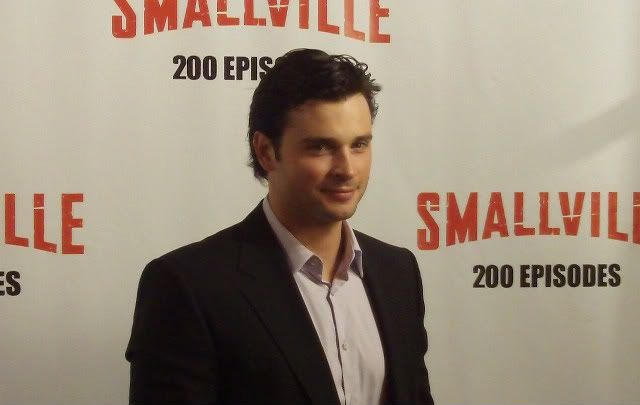 Matt Barr from Hellcats was also at the party, presumably as Tom's guest. And finally,

@DavidBlue

(David Blue from Stargate Universe) tweeted the following:

If you see some loud people who look like some SGU cast out on the town tonight... yup. That's us. Sorry. :)

Favorite random moment of the SGU evening: random Tom Welling.

ETA: From

@RealBrianRudlof

(Brian Rudloff, an assistant in the Smallville post-production office):

Smallville 200th party was AMAZING!!! In case you were wondering, Tom Welling's mom is delightful

It was great meeting

@cassidyfreeman

, Keri Lynn Pratt, Tom W, Matt Barr, the legendary Jeph Loeb and all of the Vancouver crew!

both of his parents were there, he looks exactly like his dad!

Biggest surprise of the Smallville party: Justin Hartley's shirt stayed on the entire time!

And from

@cassidyfreeman

herself:

still taking in the incredible accomplishment of 200 episodes of television...a wonderful party was had last night..congrats to all...

All the Twitter accounts listed in this entry are links. Click on any of them to look for more tweets and pics from the party.