Wow, two more Gale Harold interviews! He's really getting out there to promote Hellcats! Yay! Thanks to
g_m_h_3
for giving me the heads up on these. RL has kept me mostly offline this week, but she makes sure I don't miss anything important when it comes to Gale! ♥
First, Gale talked to Jarett Wieselman for PopWrap at the NY Post. I love what he said about his fans.
Gale Harold: My fans are everything
September 22, 2010
Jarett Wieselman

For Gale Harold fans, the October 14, 2008 motorcycle crash that landed him in ICU was doubly devastating. Not only had the man they'd come to love on "Queer As Folk" suffered a potentially life threatening injury, but it also meant he would be MIA from their lives for a while.

Tonight, a "100 percent recovered" Gale returns to television with his first recurring role since his accident on "Hellcats." He plays Julian, Marti's socially conscious law professor -- but unlike everyone else at Lancer University, Julian doesn't see her specialness from the jump. In fact, he doesn't even think she belongs there. Maybe it's all the flannels and belly shirts. Just a guess.

PopWrap: How did you come to join "Hellcats?"
Gale Harold: It was pretty straight forward. I saw the script, read it and thought the dialogue was great. Plus, my character gets involved with some pretty difficult socially relevant work. So I auditioned and voila.

PW: What can you tell us about your character, Julian Parish?
Gale: He's Marti's pre-law professor. I haven't really gotten the full backstory on him yet, but my version of it is that he's an idealistic, and therefore somewhat impoverished, lawyer who believes in social justice. Specifically the three-strikes law.

PW: Does he instantly take a liking to Marti?
Gale: He actually serves as a counterpoint to Marti because he doesn't really take her seriously. He can't imagine that a cheerleader would have the time, the will or the interest to do what it takes to become a lawyer, so he tries to weed those people out early so not one seat is wasted. He loves the legal profession, but he knows that it can be a time waster if the students aren't serious.

PW: Is he a scary guy?
Gale: That's kind of the challenge – my nature is to sometimes come across a bit crass, kind of cold, so it's trying to balance that and all of that verbose legalese so it makes sense to the audience .. and the other actors.

PW: Are you good with lots of jargon filled monologues?
Gale: I'm trying. I'm working on it. For me, the interesting thing has been trying to move quickly but naturally with complicated ideas when there's several of them. You're moving from point to point to point. I think we've all been in the position when you're up against the teacher who goes so fast you're scrambling just to keep up. But you can't, in my opinion, do that dramatically on television. Finding the balance has been fascinating for me as an actor.

PW: Would you have made a good lawyer?
Gale: I was a good student, but I've watched trial footage and I don't think my acting skills would get me there. I think that's kind of a myth, or an odd way of looking at it, that lawyers are good actors. I think good lawyers are straight-forward machine-like communicators. But I would have loved to have the opportunity.

PW: Well it's just nice to see you back in front of a camera after your accident -- how are you feeling now?
Gale: Yea, 100 percent recovered. I'm good, I'm back.

PW: I would imagine you felt the love from your fans in a way like never before during the healing process.
Gale: It's funny because during the recovery process I was very, very reclusive. That's how my recovery was laid out for me. I wasn't aware of anything until later – but yes, people were amazing. I also think that was kind of the larger wake up call in surviving this type of accident – people who say they like what you're doing really mean it, it's not like they're trying to get inside your head. They just like what you're doing and it's very kind. I'm trying to figure out how to engage in a more direct way because your audience is everything if you're an actor. I might be hitting the airwaves soon – I've got some tricks up my sleeve.

"Hellcats" airs tonight at 9pm on The CW
SOURCE
Gale also spoke to Meg Masters from E!Online's Watch With Kristin.
Gale Harold Sexes Up Hellcats Tonight—And Lives to Tell Us About It
Today 12:44 PM PDT
by Megan Masters

You loved him on Queer as Folk. You fell even harder for him on Desperate Housewives. And now the charming and oh-so-handsome Gale Harold is joining the CW's Hellcats, one of our new fall faves.

So what's he doing with a bunch of hot cheerleaders? It sounds a little naughty. Here's what Gale tells us:

Give us the goods on your new Hellcats character Julian Parrish.
Gale Harold: Julian is a law professor, and he meets Marti (Aly Michalka) in class and it's suddenly this dynamic of them feeling each other out.

Sounds a little...scandalous maybe? What do you mean by 'feeling each other out?'
G.H.: He doesn't know whether to take her seriously because she's this cheerleader. And Julian just doesn't think she'll be in his class very long, that she'll screw up and leave. He puts it back on her prove that she's serious and that this is what she wants to do.

Will there be a romance with your character and any Hellcat, or Hellcat coach?
G.H.: I've heard that there may be. But may have just been other teachers chatting in the lounge. (Laughs.) You might see a little J.P.+ H.C.? The name might start with an M?

It sounds like you storyline with Aly's character parallels her storyline with the Hellcats.
G.H.: That's how it felt to me, too. Julian's teaching because he can't afford to live independently and make a career as an attorney. He loves to teach, but at the same time he'd rather be in the courtroom. So there's definitely a parallel to Marti's situation with the Hellcats.

Why Hellcats? What made you want to do it?
G.H.: What's really interesting to me about Hellcats is there's the cheerleading world and the happy day-by-day reality, and then underneath it, it's not always so nice. It's good to investigate what's going on down there.

Don't forget to tune into Hellcats tonight at 9 p.m. on the CW to see Gale's debut ep!
SOURCE
A new promo pic of Gale from Hellcats, courtesy of
@Chico6
!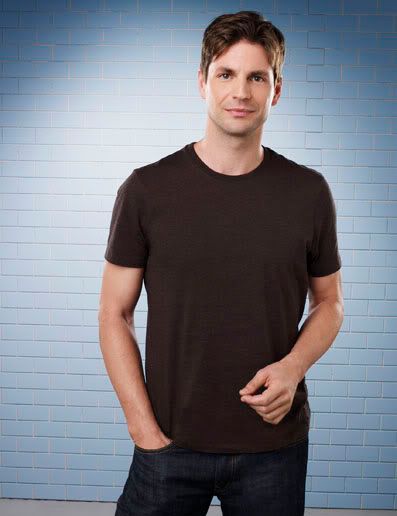 In other Hellcats news, Aly Michalka talked to Jean Bentley from TV Squad.
Aly Michalka of 'Hellcats' Talks Love Triangles, 'Bring It On' Comparisons and Singing on the Show
by Jean Bentley
posted Sep 22nd 2010 4:35PM

When you're one half of a Platinum-selling band (with your little sister, no less), the hilarious sidekick in the box office's hottest new comedy ('Easy A'), and star of a TV series that requires you to learn complex cheerleading routines every single week, there's not very much down time.

Yet for 'Hellcats' star Aly Michalka, it's all worth it. "It's pretty crazy, but I'm hanging in there," the star said of her hectic schedule. Michalka plays rebellious pre-law student-turned-college cheerleader Marti on The CW's new Wednesday night drama, and spoke with TV Squad earlier this week about her character's relationship woes, being compared to 'Bring It On,' and juggling her music, movie and TV careers. Read on for more.

Is your schedule really crazy with having to learn all those cheerleading routines?

Oh yeah. For sure. I mean, we all are working our butts off but having fun at the same time. That's what it's all about. We want to be a part of the show, we want to stay committed, and it's been a really fantastic experience for myself and I think everybody else.

Did you have any cheerleading or gymnastics experience before you signed on for 'Hellcats'?

Not at all, which is kind of insane. I had a background in dance, in hip hop, so that was something I was very comfortable with when it came to Marti's character since she is the one that kind of brings that style to the squad. But it was totally new to me with the cheerleading so that was really awesome to be able to tap into.

Has it been hard for you to learn?

I've been able to pick it up pretty easily. I studied a lot of videos and stayed in tune with my stunt double and talked to her a lot about things, so we were able to really connect pretty quickly when it came to those things.

There have been a lot of comparisons to 'Bring It On.'

I would say that our show definitely delves into the cheerleading world more than 'Bring It On' ever did, I think. It's really a show that taps into that in a very realistic way. It's obviously a fun show and it's funny, but at the same time it's looking at the serious injuries that happen, the commitment that you need for the squad, the dangerous stunts, and just how intense the sport really is.

Were you looking to join a TV series?

I decided this year that I wanted to get into the TV world. I hadn't really planned on coming back to TV necessarily, but I was so impressed with the script and I was excited to start working again and I just said "You know what, if I'm a part of a killer script that I'm passionate about, why leave out TV?" So I ended up going out for 'Hellcats' and immediately just connecting to the script and the storyline and everything about it, and I'm so happy that I did.

Tell me a little about Marti.

Marti is really the hero of our story. She's the girl that comes in unexpectedly and turns the squad into something completely new. I love that she's one of those girls who you would never expect to be part of a cheerleading squad and be committed to it, but at the end of the day she's somebody that you can count on. She knows what it takes to make the squad better and different, and I love that about her.

What's coming up next for her?

You're definitely going to see Marti involved in a lot of issues when it comes to relationships. You're going to see her be confused and torn apart when it comes to her friendship with Dan and the feelings she's starting to have for him, as well as feelings for Lewis. You're going to see her connection with Savannah become stronger, and you're also going to really see a change in her when it comes to having to juggle her studies with the cheerleading squad. And that's going to be a big thing when it comes to her commitment.

I like her relationship with Savannah -- it's very layered and they really try to understand each other instead of just act like bitches.

Yeah. I love that there is a sense of humor to their relationship and kind of an awkwardness, but they can find a common ground with each other because there is this respect that they both have for one another. So it's kind of an unlikely relationship. I always like when something isn't quite on the nose when it comes to TV relationships, when it's not something you're going to assume. "Oh, of course they're going to hate each other." But no, they actually don't. They actually dig each other and can appreciate each other for what they bring to the squad.

So we're going to see that dynamic stay the same?

Yeah. You're going to see it with some ups and downs -- we can't keep it all the same. There's going to be some issues they both go through, but at the end of the day they definitely are friends who care about each other.

Do you relate to Marti or Savannah more?

I definitely can relate to Marti more. I definitely have her spunk and her sense of humor. I also can really relate to the way that she feels about her friends. I feel like her style, even the way that she dresses, is very similar to mine. So I love that there's a similarity there that I can really tap into when it comes to playing her.

Are any of your castmates really like their characters too?

I definitely can see pieces of Ashley in Savannah for sure, and I can see pieces of Dan in Matt, his charm and his likability. It's funny. I think we were all really cast well for our roles. It's pretty insane. And I love the fact that we are all close as a cast. That's something that's so rare and so special, and I love that about us.

Do you guys hang out together off set?

Oh yeah, totally. We have dinner together -- me and Ashley just had dinner the other night. We are all definitely close. I love that we can trust in each other and be there when we've had a rough day or whatever.

Who would you choose for Marti, Dan or Lewis?

I actually love her with both. It's really funny. I understand that people are going to root for one or the other, but they both bring such great things to Marti. When I think about Marti with Lewis or with Dan, I really see that, okay, Dan is her best friend, of course they're going to have this great banter and this great relationship, but Lewis is this new guy that is her base on the team and gives her a lot of support. So you kind of root for them all.

Are we going to hear you sing on the show at all?

In episode four there is a really cool storyline with Marti in a very organic setting where there is music that's brought into the show that I was really excited about and very open-minded to, so that's a cool new thing that people will be able to look forward to.

With the success of 'Easy A' and the buzz from 'The Roommate' trailer, are you going to switch your focus next on movies?

I think for my off time, when I'm on hiatus, I'm definitely going to want to do a film. I'm so ready for that, but it's all about juggling my music career, which is extremely important with my sister, as well as the show and making features. So I think it's all about just making sure that I continue to do projects that I'm passionate about and I'm excited about at the end of the day.

Do you have anything else you want the viewers to know?

Just continue to check out the show! It's going to get better and better. The writers are really great when it comes to twists on this show and making it fresh and new each week. I'm really excited to see what the fans have to say week after week because if I'm thrilled and I'm excited about the show and I've done these takes 20, 30 times, I think that says something.

Can you tease any of the new twists?

There's going to be a really great twist when it comes to Marti and her law studies. She's going to start getting involved in a court case that's going to take her time away from the squad, and she's going to really have to balance her time between the two things.

'Hellcats' airs Wednesdays at 9PM on The CW.
SOURCE
Here's an interesting column about male cheerleaders written by Kate Torgovnick, the author of the book that inspired Hellcats.
"Hellcats" Cram Session: What You Don't Know About Male Cheerleaders
Posted by: Kate Torgovnick
4:00PM, Wednesday September 22nd 2010

The first two episodes of "Hellcats," the new show based on my book Cheer!: Inside the Secret World of College Cheerleaders, were all about the ladies—-Marti (Aly Michalka) and Savannah (Ashley Tisdale). But in tonight's episode, we're going to get the back story on Lewis Flynn (played by Robbie Jones), the Hellcats' star base who, as we'll find out, was once a Lancer University star football player.

So just how realistic is this plot line? Actually, very. Most guy cheerleaders started out as football, baseball, or basketball players. Some of them had an injury that took them out of their original sport; others didn't get college sports scholarship they were looking for and decided to change focus. There's one guy in my book who played both football and rugby before becoming a cheerleader. "Cheer is by far the hardest sport I have ever been a part of," he said.

Here are six more things you probably didn't know about male cheerleaders.

• They're not all gay. When I first started researching my book, I assumed that most male cheerleaders would be gay. It's actually just not true. While I met a few male cheerleaders who were out, the grand majority were straight. And it's a hyper-masculine culture.

• They get recruited by the women. Almost all guy cheerleaders give the same three-word explanation of how they got into cheerleading: "For a girl." Most guys don't think, "I should be a cheerleader" on their own. Sometimes a girlfriend, a female friend, or a sister suggests it. Other times, a guy will be working out in the weight room at his college, and a random female cheerleader will come up to him and suggest he come to a practice. Almost all of the guys say it only took one practice to get hooked. Why? Because in basketball, it's hard to come up with, say, a new dunk. But cheerleading is constantly evolving-—and there's tons of room to innovate and try new moves.

• It quickly stops being about the girls. Cheerleading is one of the only sports where men and women compete on the same team. And though they may start out with the idea of their team being a dating service, the guys quickly find that they develop big brother/little sister-type relationships with the women on their team. Though on any given squad, there may be one or two couples, for the most part, dating and hooking up with teammates is discouraged. Cheerleaders on other squads, though—they are fair game.

• They're strong. Very strong. I watched one guy cheerleader tear a phone book in half, and another lift the tail end of his car.

• They're in it for the long haul. In sports like basketball and football that are governed by the NCAA, you're only eligible to play for four years. But cheerleading isn't technically a sport-—and it isn't under the NCAA's umbrella. So it's very common to meet guy cheerleaders who are cheering for their 5th, 6th, even 7th year in college. One guy in my book is even cheering for his 8th year in college.

• They feel body pressure, too. The aesthetic in coed cheerleading is to have teensy girls and ginormous guys—-the size differential makes it easier to perform acrobatic stunts. But for guy cheerleaders, this means that there's a ton of pressure to be even bigger and stronger. As one guy explained to me, it's considered embarrassing for a guy cheerleader to be under 200 pounds. Most eat a ton and work out to put on weight. But steroid use is also surprisingly common in the cheerleading world.
SOURCE
Tags: aly michalka, e!online, gale harold, hellcats, interview, popwrap, tom welling productions, tv squad