Tonight's the night! Gale Harold joins the cast of Hellcats as Julian Parish, Marti's law professor. Everything about this episode looks great to me. While we count down the hours, have a Hellcats update!
Gale Harold and Aly Michalka talked to Robyn Ross from TVGuide.com about the relationship between their characters on Hellcats.
Will Hellcats' Marti Hook Up with Her Professor?
Sep 21, 2010 10:02 PM ET
by Robyn Ross

So far Hellcats has featured a lot of cheerleading and not so much studying, but that will change this week when Gale Harold arrives as Marti's law professor, Julian.

"He certainly gives her and the rest of the class the feeling that maybe he doesn't take her so seriously," Harold (Queer as Folk) tells TVGuide.com.

Marti (Aly Michalka) is a pre-law student who joined the cheerleading squad to maintain her scholarship. With the Hellcats taking up most of her time, she struggles to balance class and homework with the squad.

Marti and Julian's relationship begins as a push-and-pull, but she soon connects with him, Michalka says.

"He pushes her and pisses her off and makes her go, 'Fine, I'm going to get my stuff together, I'm going to impress you,'" she says.

Julian is inspiring to Marti because "he doesn't try to be," Harold says. "When you're around [an instructor] and you can tell they're so good and so adept, it's almost overwhelming, but at the same time you're being inspired. Not only do you want to do what that person does, but figure out how they do it."

The two soon get closer when Marti goes to Julian for legal advice on behalf of her friend. But how close will they ultimately get? Both Harold and Michalka agree that Julian and Marti could cross the student-teacher line — if the fans want to see it.

"Marti always needs to be a likeable character where we root for her, and if that involves [that] story line happening, then I'm sure they'll be going in that direction," Michalka says.

Adds Harold: "I think if they're going well, they could. From a storytelling point of view, it's really effective because you don't have to do all the expositional 'this is where I'm from, this is who I am, this is how I came to be who I am.' It's just proven in action and so all of the subtext is much more direct."

Do you want to see Marti and her law professor hook up?

Hellcats airs Wednesdays at 9/8c on CW.
SOURCE
A tiny pic of Gale was included in the September 27 - October 3, 2010 issue of TV Guide with coverage of the Paley Center's Fall TV Preview Parties.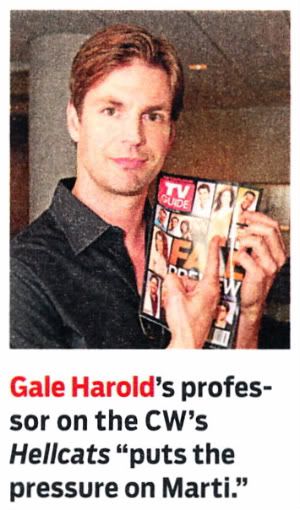 Read an interview with Heather Hemmens from a newspaper in her home state of Maine
HERE
.
Clickable thumbnails of Aly and Ashley in the October 2010 issue of Seventeen.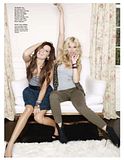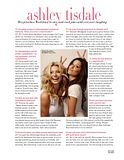 The official description for tonight's episode:
WEDNESDAY, SEPTEMBER 22

"HELLCATS" - (9:00-10:00 p.m. ET)

"Beale St. After Dark" (TV-PG, DL) (HDTV)

GALE HAROLD ("DESPERATE HOUSEWIVES") JOINS THE CAST AS MARTI'S PROFESSOR - Savannah (Ashley Tisdale) is nervous about her first date with Dan (Matt Barr) so Marti (Aly Michalka), Lewis (Robbie Jones) and the rest of the Hellcats team accompany her on their date which ends in disaster. Meanwhile, Marti tries to impress her law professor Julian (Harold) in the hopes of joining his legal team but he doubts she can balance both her studies and cheerleading. Desperate to get her spot back, Alice (Heather Hemmens) turns to pills to kill the pain so she can get medically approved to re-join the team. Vanessa (Sharon Leal) decides to come clean with Derrick (DB Woodside) about her affair with Red (Jeff Hephner). Bethany Rooney directed the episode with story by Kevin Murphy and teleplay by Kevin Murphy & Peter Calloway (#103).
SOURCE
Episode Preview:
Promo:
ETA:
Meg Masters from E!Online's Watch With Kristin reports that Debbie Allen will direct an episode of Hellcats!
Fame Star and Superchoreographer Debbie Allen Scores Hellcats Directing Gig
Today 7:45 AM PDT
by MEGAN MASTERS

The CW's latest insta-hit is keeping the goodness coming!

Need proof? We can exclusively confirm that dancing legend Debbie Allen is coming to Hellcats (Gimme a hell-to-the-yes!) to whip those cheerleading fiends into fighting shape—behind the scenes anyway...

The onetime Fame superstar and sometime So You Think You Can Dance choreographer is heading to Hellcats to work her magic behind the camera later this season, directing an upcoming episode with a huge, elaborate, kickass musical number—and honestly, would you expect anything less from this icon?

"I'm a longtime fan of the original Fame, so having Debbie Allen join our team is a dream come true," Hellcats show runner Kevin Murphy tells us exclusively. "Our executive producer/director Allan Arkush worked alongside Debbie on the Fame television series, so we're all excited to witness this long overdue creative reunion."

Adds a gushing Murphy: "Debbie Allen is the platinum standard when it comes to combining dance, drama and an energetic young cast. Best of all, we've arranged a special clause in her deal—we're paying her in sweat."

No word yet on whether or not Allen will be choreographing the big number during her directing stint, but our money's on yes. And if not, we're not above begging...Debbie, can you hear us?!

Tune into Hellcats tonight at 9 p.m. on the CW for loads more fun, including a drunken date night with Ashley Tisdale's cutesy Savannah!
SOURCE
Tags: e!online, gale harold, hellcats, interview, scans, seventeen, tom welling productions, tv guide, youtube