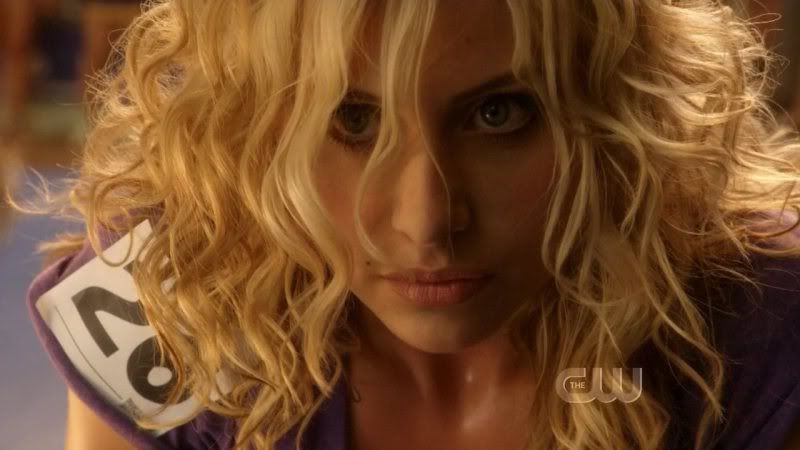 Okay, I liked it. A lot. So if you didn't (and I think only a couple of people on my flist did), you may want to skip this one. :)

Going into the first episode of Hellcats, I wondered if I had already seen it all. After the countless promos, clips, and sneak peeks the CW had given us over the past few months, was there any story left to tell? Well, I needn't have worried. The scenes I knew by heart drew me in all over again, and there was a lot more to the episode than I ever anticipated. Hellcats was a fun mix of comedy, drama, music, and dance, with an appealing cast and characters I can't wait to know better. I thoroughly enjoyed it, and I'm already counting the days until next Wednesday.

The pilot did a great job of introducing us to the Hellcats world, and laying the groundwork for future storylines. The focus was on Marti, a tough, independent college student who has always taken care of herself, and will do whatever it takes to follow her dreams, even joining the ranks of Lancer University's "football groupies." As we followed her through the crisis of losing her scholarship, her desperate plan to save her education, and the dawning realization that this cheerleading gig may have a lot more to offer than free tuition, I fell for Marti in a big way, and she is the main reason I'll be coming back. But the episode had a nice balance to it, exploring each of the other characters just enough to make me want more.

Savannah was a happy surprise. Far from the stereotypical mean girl I expected, she was a fascinating mix of hard and soft. Her passion for her sport and her determination to be the best gave her a steely strength, while her sweet summer dresses and obvious naivete betrayed an innocence that made me curious. What's her story, where did she come from? I found her earnest leadership endearing, and the way she welcomed Marti to the squad, their disastrous first meeting forgotten, completely won me over. She seemed like a genuinely nice person, and even her relentless perkiness was more adorable than annoying.

The other characters were a little more cookie-cutter, but they definitely have potential. We met Dan, the townie BFF who might want to be more than just friends, Lewis, the cheer stud who is full of confidence and bravado, and Alice, the jealous mean girl who is already plotting Marti's downfall. I look forward to seeing episodes that delve a little deeper to flesh them out. Marti's mom, Wanda, is a hot mess, and I can't wait to see more of her. But I couldn't care less about the triangle the show is setting up between Vanessa, Derrick, and Red, mostly because I can't fathom it. On one hand you have a hunky doctor who loves you, and on the other you have, well, a dick. Let's just say I was less than charmed.

The heart of Hellcats can be found in the relationships. Marti and Savannah seem so different, and yet they're already finding common ground. They have great chemistry together, whether they're fighting, or bonding over ice packs and war stories. What will bring them closer together, and what will tear them apart? How will Marti's new world affect her friendship with Dan? He's already worried she'll change, and one day leave him behind. Lewis is coming on strong with his new flyer. Is he just an incurable flirt, or does he want to be more than her cheer partner? What about Marti's mom? I'm afraid to even contemplate what new humiliations she has in store for her daughter. And that's just the tip of the iceberg. It's all fertile ground for a season's worth of stories as Marti tries to do it all, with a weekly cheer number thrown in for pure entertainment value.

More than anything else, though, it's the lead of this show, Aly Michalka, who makes me love it. She brings Marti to life with a vibrancy I can't resist. Aly's tall and gorgeous, with crazy beautiful hair, and she has an indefinable quality that makes it impossible for me to take my eyes off of her anytime she's onscreen. I find her acting real and relatable, and her smile irresistible. And I admire her poise in interviews. Clearly, I am besotted. :)

All the casting for Hellcats has been solid. Ashley Tisdale brings a complexity to Savannah that couldn't be more different from Sharpay's broad comedic strokes, and there's a hint of sadness behind those big brown eyes that intrigues me. Savannah may be a control freak with OCD tendencies, but she's also compassionate and sincere, and Ashley makes her likable. I also enjoyed Matt Barr's easy charm as Dan, Robbie Jones' showmanship and humor (not to mention his rampant shirtlessness) as Lewis, and Heather Hemmens' mastery of the ice princess as Alice, who sees everything that gives her life meaning slipping through her fingers.

The pilot was understandably all about how Marti became a Hellcat. We saw a glimpse of her complicated family situation, and a little of her social life, which seemed to consist entirely of hanging out with Dan, but nothing of her in the classroom or the library, pursuing her studies. One of the best things about Hellcats doesn't show up until the third episode, when Gale Harold joins the cast as Marti's law professor, Julian. This show is about more than cheerleading, and I can't wait to see how the academic side of Marti's life fits into the mix.

I came to Hellcats first and foremost as a Tom Welling fan, and it certainly showed while I watched. His executive producer credit made me squee, and I spent much of the episode imagining him behind the cameras, and wondering which part he directed. When Marti was given #26 in the tryouts, it made me think of Tom's birthday. I had my fingers crossed that the ratings would be good, because I want Tom's show to be a success. And I waited through the whole episode to see the vanity card for Tom Welling Productions during the end credits, and then there wasn't one! But I would watch whether Tom was involved or not; I liked this show on its own merits.

Hellcats was far from perfect, but overall, for me, it was a win. I wasn't crazy about the voice-over segments, I thought the tumbling cheerleader wipes were cheesy, and some of the dialogue made me roll my eyes. I could nitpick a lot of the details. But I fell hard for Aly Michalka's performance, I connected with the characters, and I want to know what happens next. I loved all the dance sequences, especially Marti's practice session in her apartment, and the string of pop hits that made up the soundtrack. Quite simply, I bought in. I'll even admit that the slo-mo cheerleader strut to Mika's "We Are Golden" that closed out the episode gave me chills. So I say well done, Tom. Go Hellcats!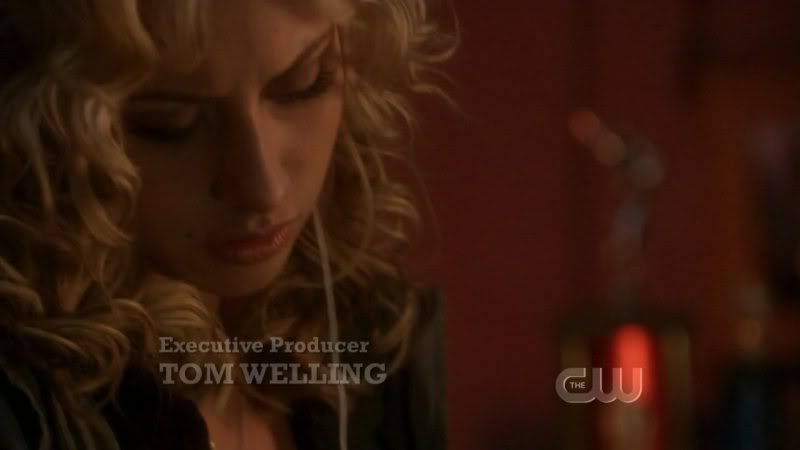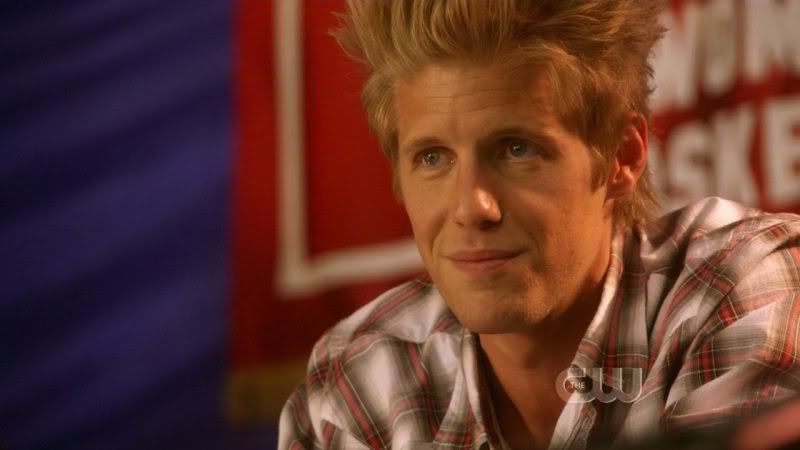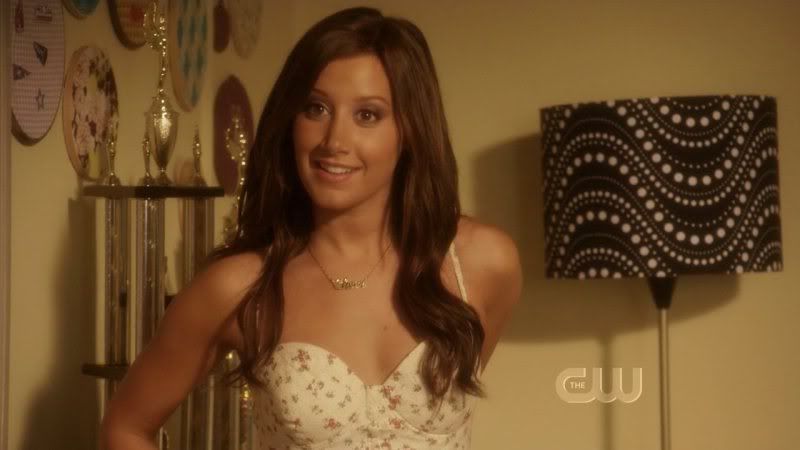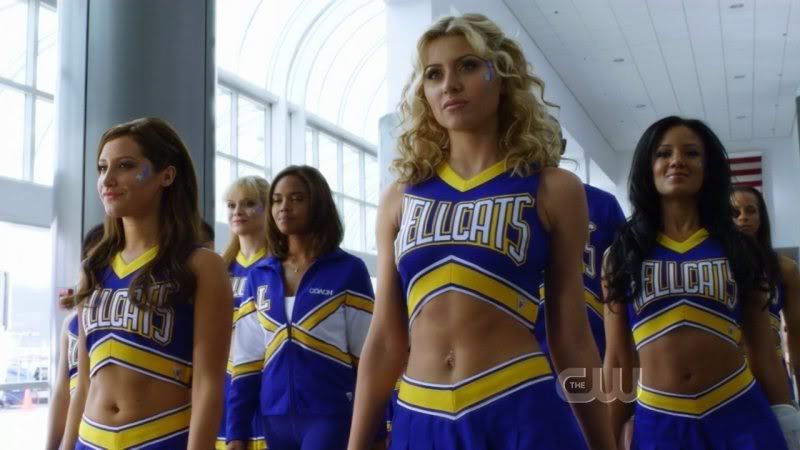 Screen caps courtesy of
marishna, with my thanks!