Hellcats premieres tomorrow night at 9PM on the CW, and everywhere I looked today there were interviews, articles, reviews, vids, and pics! It is beyond overwhelming, and I'm not even going to try to keep up. Here are just a few things I found particularly interesting.

Aly Michalka talked to Brian Truitt for USA Weekend, and Tom Welling's name came up!

Tom Welling is also in Vancouver filming the final season of Smallville. Does he show up on your set often?
He does. When he has days off, he's always here. He's really got his hands busy with that show and our show as well. He really does have a great eye for not only just directing and producing, but also advice when it comes to us as actors. He's really supportive and he's not just putting his name on our show. He's fully in there doing all the work.

He's a guy who really grew up on TV. What's the best thing he's taught you so far?
To speak up about anything that might be bothering you, or if you're having a down day, to talk to somebody about it. It's a great thing for him to say because he's like, "You know, there are times when it's going to be really hard and you're going to need somebody to talk to. I'm always there to talk to and don't hesitate." I really appreciate that.

Are you the kind of person who wouldn't speak up and would just grin and bear it?
Yeah, probably. I'd just bite the bullet and go through it, or talk to my sister about it. But it's nice to know that somebody's there who's not going to freak out about you maybe having a bad day. It's cool.

Read the entire interview

HERE

. It's a good one!

WPIX interviewed Aly Michalka in NYC this morning:





SOURCE



KTLA talked to Aly Michalka and Ashley Tisdale via satellite today:





SOURCE



Another interview with Aly that I liked was by David Martindale for the Star-Telegram. Read it

HERE

.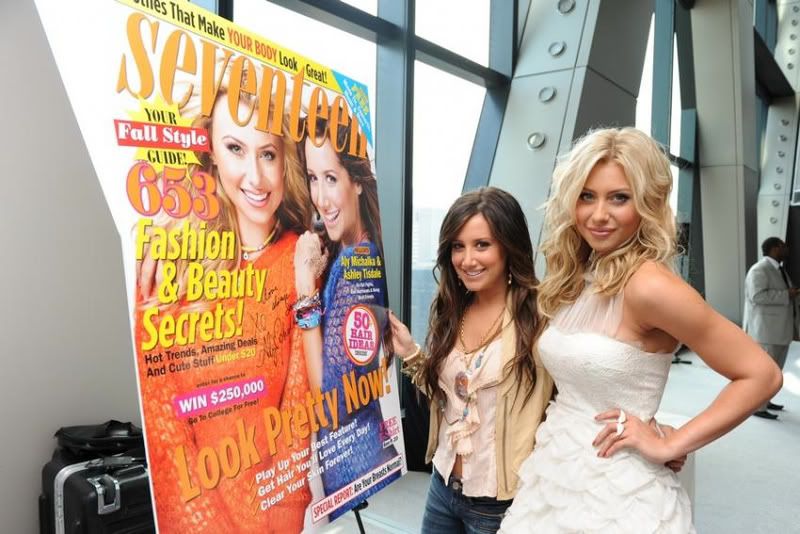 Aly and Ashley will be appearing on the cover of the October 2010 issue of Seventeen! Read about it at Just Jared Jr.

HERE

, and view a sneak peek slideshow with pics and quotes at Seventeen

HERE

.

The CW has posted another character vid on YouTube. Look for a delicious glimpse of Ben Browder in the first few seconds! Meet Wanda from Hellcats:



For lots more of all things Hellcats, visit

Hellcats Fans

, and follow them on Twitter at

@hellcatsfansite

.

A beautiful BTS pic of Aly courtesy of CW publicist Marisa Mineo (

@MissMarisM

on Twitter), with my thanks!




And last but not least, get a first look at the Hellcats pilot on the CW site right now! See the first five minutes

HERE

!