Michael Ausiello has revealed the first two episode stills from the Smallville S10 premiere! That pic of Tom Welling? *thud*

Exclusive First Look: 'Smallville' crucifies Lois Lane
by Michael Ausiello
Aug 27 2010 01:26 PM ET



Image Credit: Jack Rowand/The CW

Smallville exec producers Brian Peterson and Kelly Souders said the show's 10th and final season would feature nods to the past nine years, and this haunting image of Lois being "crucified" in the Sept. 24 premiere, "Lazarus," confirms that they were not lying.

Speaking of nostalgia trips, an exclusive first look at John Schneider's return as the late Jonathan Kent awaits you after the jump.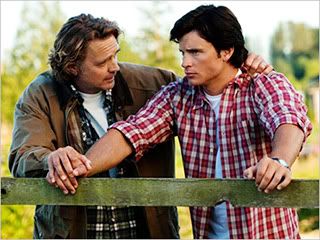 Image Credit: Jack Rowand/The CW

Who's pumped for season 10? Got a theory as to who strung Lois up like a scarecrow? Hit the comments!



SOURCE



ETA: I've been working crazy hours lately, so I'm a bit out of the loop, but are a lot of people not happy with the latest Lois spoilers, the image here and the news that she will be possessed by Isis? I honestly have no idea what to make of them, so I don't have an opinion one way or the other. What's the buzz, can you guys fill me in?