New video interviews from SDCC turned up today. I've updated my previous posts to include them.
The Flickcast talked to Erica Durance about the possibility of her playing Lois Lane in other projects after Smallville is over. Find the updated post
HERE
.
MovieWeb posted a brief clip of James Marsters talking about his return to Smallville. Find the updated post
HERE
.
In Hellcats news, Carina MacKenzie from Zap2it interviewed Aly Michalka and Ashley Tisdale at the TCAs.
'Hellcats' Ashley Tisdale and Aly Michalka talk love triangle details
By Carina Adly MacKenzie
August 2, 2010 9:19 PM ET

Guilty pleasure T.V. just wouldn't be pleasurable if it weren't for the inevitable love triangle, and The CW's new drama "Hellcats" intends to deliver this fall.

Zap2it sat down with stars Ashley Tisdale and Aly Michalka at the Television Critics Association's Summer Press Tour to get the dish on their characters' mutual attraction to Dan, played by Matt Barr.

As you can see in the clip below, Barr -- who you'll recognize from "One Tree Hill" and "Harper's Island" - is super hot, and totally triangle-worthy. Dan is Marti's (Michalka) childhood best friend, a lovable townie with a not-so-subtle crush on Marti. So what brings head cheerleader Savannah (Tisdale) into the equation?

"She's used to dates being set up by the church, so she hasn't had much of an experience with romance," Tisdale tells us. "She and [Dan] start to go out, and it creates a whole new triangle in the show."

The relationship won't come easy, though, because Savannah isn't exactly an open book. "She's complicated," Tisdale scenes. "In some scenes, I want to really go there with emotions and get emotional, but she's really closed off, so I have to stop myself. It's hard to keep everything inside, but she's that character. She's not open to everybody. She doesn't let anyone in."

As for how Marti feels about her new friend dating her old friend, Michalka tells us, "It's really weird for Marti. She's completely convinced that she and Dan are just friends, and she's trying to be a good friend. She helps Savannah get ready for the date, but inside she's thinking, 'Oh, my God, what is going on here?' She doesn't know what to feel. It's weird for her, because he's always the person she's told her secrets to, and now she's watching him date her friend and she doesn't have anyone to talk to about it."

Meanwhile, Marti may also have her eye on fellow Hellcat, Lewis Flynn - played by another "One Tree Hill" alum, Robbie Jones. "They've got a really great relationship, because she's in a new world and she knows that he has her back," Michalka says.
SOURCE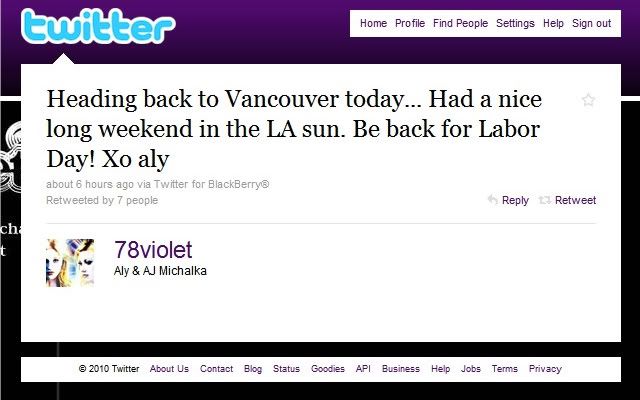 Tags: flickcast, hellcats, interview, movieweb, sdcc, smallville, spoilers, tom welling productions, twitter, video, youtube, zap2it