Tom Welling had a busy day yesterday! He flew down to L.A. from Vancouver to attend the Hellcats presentation at the 2010 Television Critics Association (TCA) Summer Press Tour, and then turned around and flew right back again as soon as it was over to resume filming on Smallville. It was so exciting to see Tom take on this new role, and to realize the career that stretches before him when his days as Clark Kent are over! He has come so far, and grown so much.

To get the full effect of this entry, listen to Katy Perry's California Gurls and 3OH!3's My First Kiss on a non-stop loop while reading. ;)

Representing Hellcats at the TCAs were Tom, Aly Michalka (Marti), Ashley Tisdale (Savannah), and executive producer Kevin Murphy. Here are a few pics from the event. Click for BIGGER.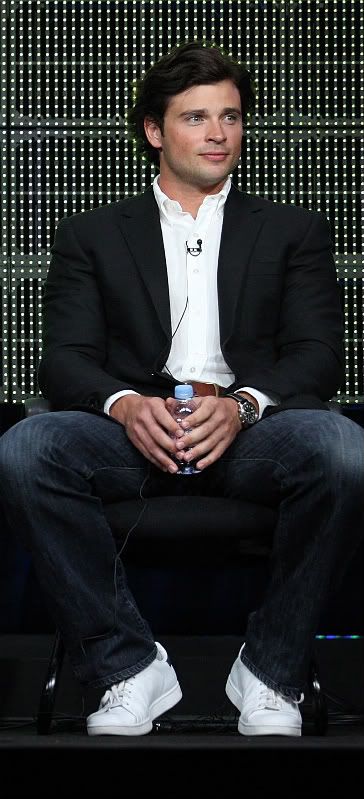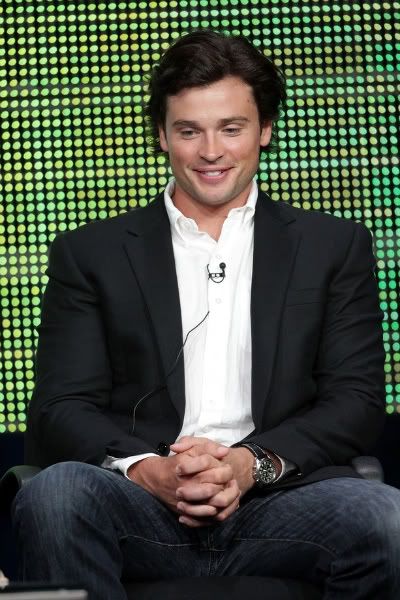 A couple of smaller ones: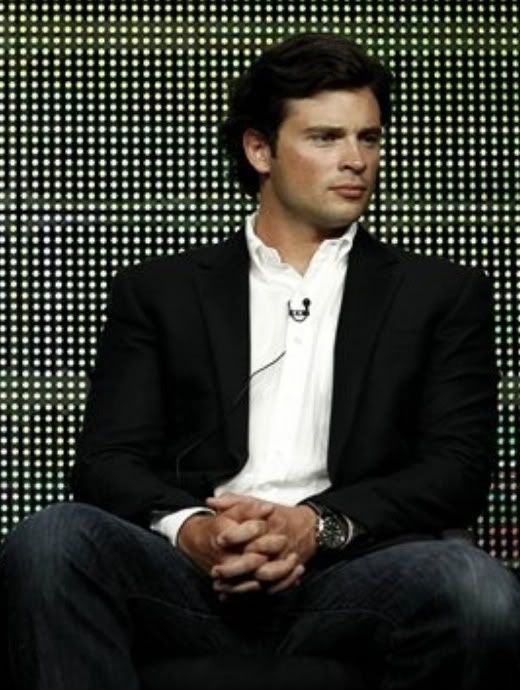 Clickable thumbnails with Aly and Ashley: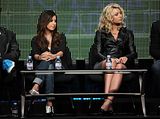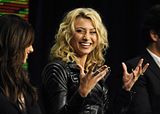 Pics courtesy of Getty Images, Reuters Pictures, AP Photo, WireImage, and the CW, with my thanks!

Kevin Murphy announced that Gale Harold (!!!) has been cast in the recurring role of Julian, Marti's law professor. Okay, this almost makes up for the loss of Ben Browder. I can't wait to see this show! *imagines Tom and Gale hanging out together*




For a quick but thorough recap of the presentation, check out the TV Squad report

HERE

.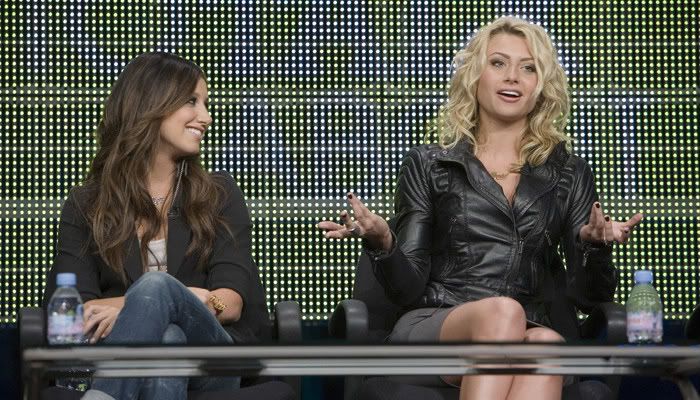 Tweets about Tom and Hellcats from the TCAs:

★ Carina MacKenzie from Zap2it -

@cadlymack



Ok, off to interview Ashley Tisdale! No I will not ask her about Zefron's penchant for strip clubs.

Got great stuff from Ashley Tisdale. She showed me a blackberry video of a crazy stunt she did -- love it.

Paul Hewitt just accidentally called Hellcats "Smallville." "It's my first day!" It's ok, Paul, Tom Welling mixes me all up too.

Matt Barr is so attractive. (I don't deserve this job. All I want to do all day is tweet about cute boys.)

Ashley & Aly's necklaces say "Hellcats." Ashley gave Aly hers. Ashley's has diamonds, but she told me Aly doesn't like glitzy stuff.

GALE HAROLD IS COMING ON HELLCATS as Marty's law professor. Holy MOLY I love him.

And with that, my camera's battery is deadsville.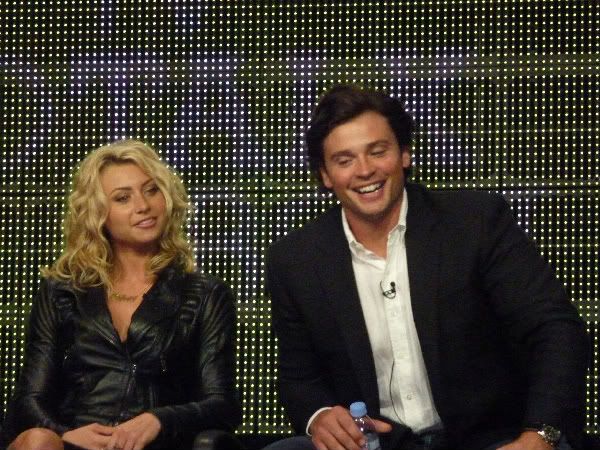 @cadlymack

I take very serious notes.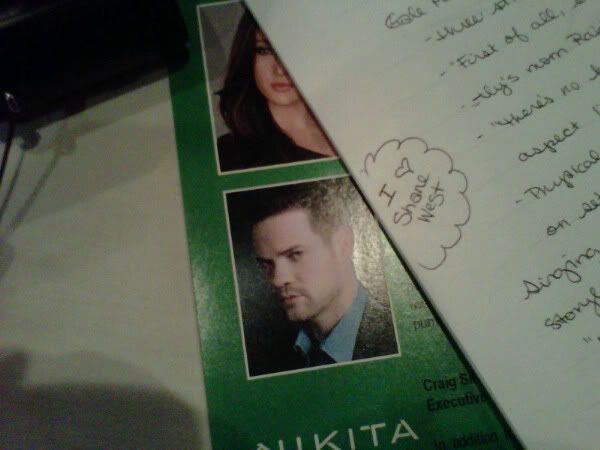 @cadlymack

Running off to interview Aly Michalka!

More info on Gale Harold's "Hellcats" character. (No word on whether he'll be making out with hot dudes, sorry.)

[read her interview with Aly Michalka about Gale Harold's character

HERE

]

Having a mini Queer as Folk marathon tonight in honor of Gale Harold's new job. I prefer him naked, what can I say?

★ Damian Holbrook from TV Guide -

@DamianTVGuideMg

and

@TVGuideMagazine

:

Tom Welling says that hellcats is a perfect fit for the CW

hellcats films about 10 mins from smallville. "i'm doing everything i can," says EP Welling, adding he's getting support from both shows.

Breaking Away and VisionQuest just bandied about as hellcats inspiration.

hellcats will feature Marti working with law professor played by Gale Harold.

The Tiz is brunette and playing a nice girl in hellcats. Sharpay Evans has left the building.

"cheerleading is badass, these people workout like mad," says Aly Michalka of playing athletes with pom-poms.

Tom Welling says the auditions for hellcats included acting and dancing tryouts. "when they're not filming, they're practicing."

Aly and the Tiz say their respective singing careers may be fit in to hellcats if it works with the show.

Welling says the stop-and-go of shooting is tough on the cheerleading actors who get warmed up and then have to wait.

"This project was based on a book called Cheer," explains Welling of picking this project. "Great story, lot of heart."

loving these girls talking to Tom Welling as their boss...and him having answers about their jobs. they grow up so fast.

★ Eric Goldman from IGN -

@EricIGN

:

Smallville fans, I just saw Tom Welling walking backstage. Cue your virtual "Woo"s. ;)

Welling's time post-panel was SUPER (no pun) brief, but he asked me how Comic-Con was for me, as he left. Nice guy, that Tom!

★ Greg Hernandez -

@greghernandez



CW: "Hellcats" executive producer Kevin Murphy tells me he hasnt yet made up his mind if Gale Harold's attorney character is straight or gay

[read his interview with Kevin Murphy about Gale Harold's character

HERE

]

CW: Tom Welling is just, so, TALL!

★ Matt Mitovich from Fancast -

@MattMitovich



CW at TCA: Huh. HELLCATS is even MORE fun to watch on a 30-foot HD screen :)

Hellcats at TCA: Tom Welling rockin' the suit and white tennies

HELLCATS at TCA: The dilemma of law student Marty posing for a cheesy cheerleader calendar is one storyline...

★ Meg Masters from E!Online -

@megmasters



FYI: This panel is pretty much gorgeous. Hi Tom Welling. The Tiz and Aly are beautiful, too.

★ Suzanne Gomez, Director of Publicity for Smallville and Hellcats -

@Chico6



Great day today at CW TCA! Chatted with Tom Welling, exec producer on Hellcats!

Had 2 rush him off stage 2 return him 2 Smallville. Long airline trip 4 30 minute panel. Would b easier if he could, I don't know, fly? Hee.

Thinking of making t-shirts like the "new" one Clark will wear this year. Would you want one?

Ashley Tisdale and Aly Michalka looked amazing today! Both wore the super cute "Hellcats" necklaces! & I need Ashley's shoes. Fab!

And did you hear Gale Harold set as professor on Hellcats? Could this cast get any better looking?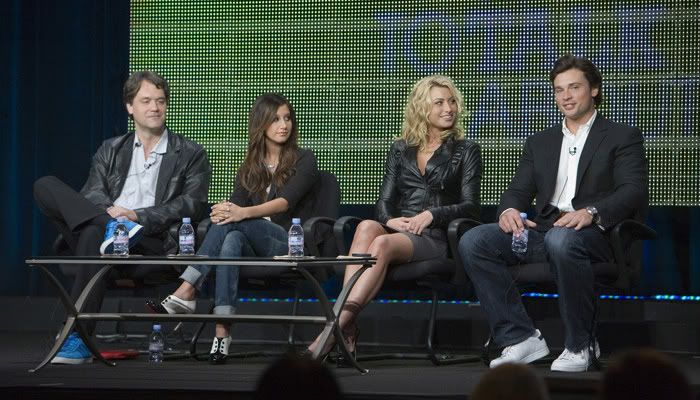 Quotes from the live blog of the presentation by

TV Tango

:

3:30pm - 4:00pm HELLCATS. Series premieres on Wednesday, September 8, 2010 at 9pm on The CW

Q for Tom Welling about being with CW and knowing how to sell a show.

Tom Welling: We knew it was a perfect fit. We knew I had relationships from SMALLVILLE that we could use.

Q for Tom Welling about multi-tasking.

Tom Welling: HELLCATS is also filming in BC, about 10 minutes from where they film SMALLVILLE.

Q about whether HELLCATS is the anti-GLEE? is it cheerleaders' revenge?

Kevin Murphy: It goes back to those sports movies of the 70s....people in difficult economic times where sports teams form a de facto family. It's probably not anti-anything. "Positive outcomes only" is the tagline for Ashley's character. I would never try to compete with GLEE.

Q about Aly Michalka's character as a 1st year law student vs. another major.

Kevin Murphy: It will be significant. She's trying to balance something that the people around her view as frivolous. Marty is faced with the dilemma as a lawyer of doing a calendar. That's a real dilemma that something you do at 22 years old can still be out there when you're 35. We're going to do a story where Marty gets involved with the three strikes laws in TN. Partly taken from the story of the California pizza bandit.

Q about casting the two leads.

Kevin Murphy: Ashley Tisdale's take on Savannah is that she can be chirpy and annoying but you still want to hang out with her and be her friend. When Aly Michalka left the casting room, I said that we have our Marty.

Aly Michalka: It was a cool coincidence that we both came from a musical background. It's just something that we happened to be right for these roles. Just me getting back into the TV world was a fresh experience. We were so willing to open ourselves back to that. We all wanted to make it work because of the passion behind the project. We're going to show the real side of these characters. These people are trustworthy. They're there to catch you, stand by you. It's this team effort.

Q for Ashley and her character from HSM.

Ashley Tisdale: She's completely different from my character in HSM. She's not as selfish. Savannah is a team player.

Aly Michalka: She's sees there's something there in Marty to help the team. For Marty, it's law and she needs cheer to do that. For Savannah, she wants to go to nationals. Their goals are aligned.

Q about whether they were cheerleaders.

Aly Michalka: I was not. My mom was a Raiders' cheerleader when the team won the Super Bowl. I wasn't on a team because there are no home-schooled cheerleading squads. I was in dance companies. Hip-hop when I was a teenager.

Tom Welling: when we were casting, that was a huge part of it. They have to act, dance, cheer. I think you're going to be surprised by the physicality.

[Will the characters sing in Hellcats?]

Aly Michalka: We're going to keep them separate, but if there's an opportunity to sing, we would love to do that. My music is very special to me. When it's combined that's awesome too.

Q about law or pre-law.

Kevin Murphy: Marty is a junior pre-law student.

Tom Welling: the usual rule is one year of high school is two years of a series.

Kevin Murphy: there's always law school. Plus, some cheerleaders don't graduate just so they can keep cheering.

Aly Michalka: Some are ring chasers. They transfer from school to school looking to win a championship ring.

Kevin Murphy: It might be cool to get into cheer camp in future years. We might need to change it up.

Aly Michalka: The downtime is important. You have to re-audition. You're not safe to get in every single year.

Q about stunt doubles.

Ashley Tisdale: For the pilot, we did two weeks of rehearsals. Now that we're in production, we learn that we only have a week each time. It's been a little hard, and the best part is when we get to perform.

Aly Michalka: You actually feel the rush that these girls feel.

Kevin Murphy: These two are obsessive about doing their own stuff. Ashley was actually flying. Aly did her own helicopter. Aly's cheer double got hurt during the pilot. We're working with a dream team of dancers, ballerinas, cheerleaders. They're just animals. They get hurt and play through the pain. We have a sports doctor, an acupuncturist, a chiropractor...

Q for Tom Welling (last question from audience): do you have a passion for cheerleading?

Tom Welling: This project is based on a book called CHEER. There was a whole world that hasn't been tapped into. I found it interesting.

[No scrum for Tom.] His manager took him off stage before we could even surround him to ask questions. He has a 6pm flight to go back and film and she said "they'll kill me if I don't have him on that flight."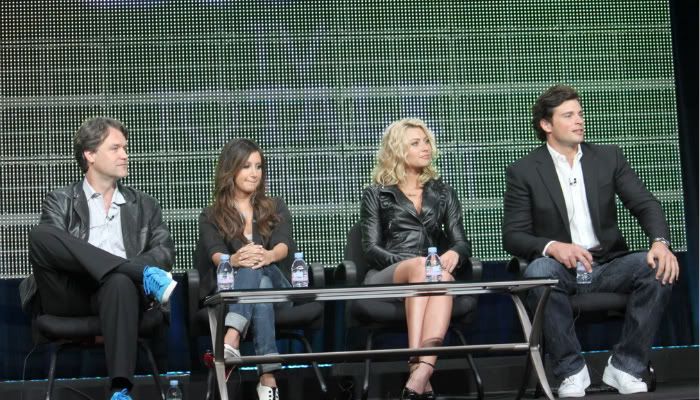 @danielletbd

In other news, Robbie Jones (Lewis) gave an interview to

Hollywood the Write Way

, and had this to say about Tom:

As for Tom Welling, he has been an endless support. He is the type of guy who really relates to other actors and he really did a great job in putting this project together. He's been amazing.

Go Hellcats! :)