Television station KTLA's coverage of the Smallville press room at SDCC. I've been hanging on to these, hoping they would post the video for Tom and Cassidy. If and when they do, I'll update here. All vids have now been posted!

Tom Welling:

ETA3: Yay!! We finally have the Tom interview!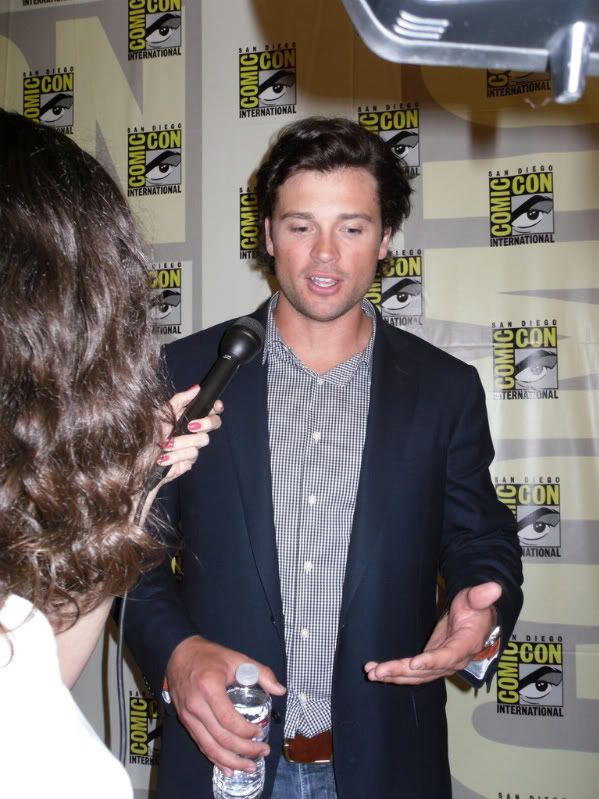 Tom Welling as he shares with us what character he'd love to see coming back towards the end of the series.

Erica Durance:



Justin Hartley:



Cassidy Freeman:

ETA: We have video! Cassidy talks about her dog!





Cassidy Freeman as she talks about what Tess Mercer's face will look like on season 10.

John Schneider:



Laura Vandervoort:



ETA2: Two more, all we need now is Tom.

Brian Peterson:



Kelly Souders:



For a bigger view, click on "FULL SCREEN" in the upper left-hand corner of the video player.



SOURCE



Also, Ed Gross of Earth's Mightiest and Voices From Krypton posted these audio recordings of the Smallville press roundtable interviews.

Erica Durance (read a transcript

HERE

):





SOURCE



Brian Peterson (read a transcript

HERE

):





SOURCE



ETA: A new one!

Kelly Souders (read a transcript

HERE

):





SOURCE



ETA4: And another!

John Schneider (read a transcript

HERE

):





SOURCE



ETA5: And they keep on coming. :)

Justin Hartley (read a transcript

HERE

):





SOURCE



ETA6: Okay, I believe this one is the last. Yay for a complete set!

Cassidy Freeman (read a transcript

HERE

):





SOURCE