I'm sure you guys have already seen the news on Kryptonsite that both Michael Shanks and Alessandro Juliani will return to Smallville in S10, but if not, read all about it

HERE

. I'm excited! It's always a thrill to see Michael on my TV screen, no matter what the show, and I thoroughly enjoyed his Hawkman in last season's Absolute Justice. And I'm over the moon about AJ! Dr. Emil is awesome!

I don't know how AJ found the time to film the season premiere, though. He's currently getting rave reviews as Henry V in two different plays at Vancouver's Bard on the Beach Shakespeare Festival.




The only day he has off all week is Monday, so I guess that was the day he shot Smallville! I'm glad he found a way to fit it in, and I hope he'll be back for more episodes later in the season.

They finally re-cast the part of Red in Hellcats, but I can't bring myself to care much, because I'm still imagining how great the show could have been with Ben Browder in the role. *pouts* If you're curious about the new guy, however, check out the scoop from Matt Mitovich on

FANCAST

.

In other Hellcats news, Tom Welling paid a visit to the set yesterday!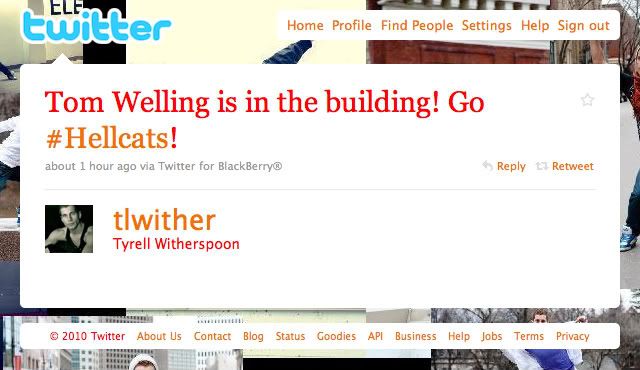 All we have so far is this one tweet confirming he was there, but maybe more news will pop up later. I won't be holding my breath for a pic, though. :)

Did anyone else catch John Schneider on Leverage Sunday night? Yikes, he was scary! Watching him reminded me how much I'd love to see Tom play someone truly evil someday. It's more shocking, and more fun, when you're programmed to think of him as a good guy. John did an excellent job, as did Alona Tal, from Supernatural (fandoms collide!). Plus Christian Kane sang a beautiful original song for the episode. If you're not already watching Leverage, you should be.