Almost a year after his last entry, Greg Beeman has updated his blog, Beaming Beeman! He talks about Salvation, and it is so massively spoilery it's not even funny. You want to consider carefully before you click. Actually, trust me, you DO NOT want to read it before watching the episode. SERIOUSLY, HE TELLS YOU EVERYTHING. I know, because spoiler whore that I am, I read every word. :) As always, he shares some amazing pics, so you can always bookmark the site, scroll really fast past all the words, and check out the pretty. Although some of the pics are totally spoilery, too. Maybe just wait until after the episode airs. Anyway, here's the link:



http://gregbeeman.blogspot.com/



Some quotes:

Tom Welling has matured and grown so much – especially behind the scenes.

[Alllison Mack] was going through some changes on this episode, because she was choosing to move on from the show. It looks like she'll be back for a couple of episodes but not full time. She and I got to talk about the experience of leaving behind something that you've grown so attached to.

Beeman was always all about Clark:

Throughout prep, something felt wrong about this. It wasn't really Clark's story enough – It was too much Zod's story. As we were going through the usual VFX meetings and production design meetings, this issue kept coming up. Finally, and it was just a day or two before we started shooting Brian called me on the phone one day and pitched this new opening. I was thrilled.

I had a lot of fun with Cassidy Freeman by the way. We had met once before. It was at the premiere party for MELROSE PLACE. She was there with Kelly Souders (I think) and someone introduced me "This is Greg Beeman." She, basically, screamed and jumped into my arms with a big hug. It was a bit of a surprise, since I'd never met her, but I went with it! So we hugged and she was screaming and I twirled her around a few times (Film business people are passionate people!) I'm not quite sure why she was so excited to meet me, but hey! For some reason my legend has grown large since I departed Vancouver. I think perhaps larger than is realistic, but, anyway – they remember me fondly there and I guess Cassidy had heard the many stories of "Beeman" and – well, there you go. Anyway she is a hoot. She is a hard worker and up for anything.

And FINALLY – I want to tip my hat to Tom Welling who has grown and matured so much since I last worked with him. During the whole of the production of this episode he was also producing the pilot to his new series HELLCATS. And he really was producing it too! As of this moment the show looks very likely to be on CW's slate next year. That's an amazing feat. Tom is a true go-getter and I'm quite proud of him.

A few pics. Lots more at his blog. Click for BIGGER: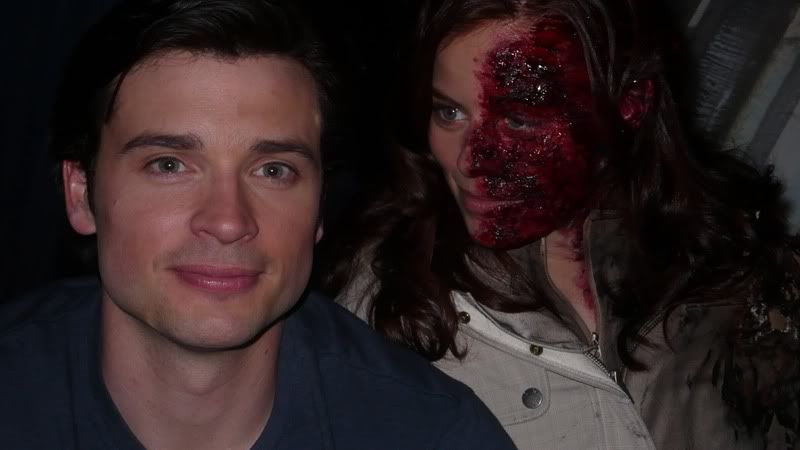 ETA: Well, I guess it was a little TOO spoilery, because the entry has been taken down. Hopefully he'll put it back up after the episode airs.

ETA2: And it's back up. The little bit I quoted above about Allison's plans for next season is gone, so perhaps her circumstances have changed, and he's added in some new stuff as well. Click on the link above and enjoy!