The good news is that Smallville gets a mention in the April 26-May 2, 2010, issue of TV Guide. The bad news is that you'd never know Clark was even in
Sacrifice
from their coverage. Kudos to Justin Hartley for his writing credit on the episode, and I look forward to seeing the story he crafted. I just think we've already had enough episodes focusing on characters other than Clark this season.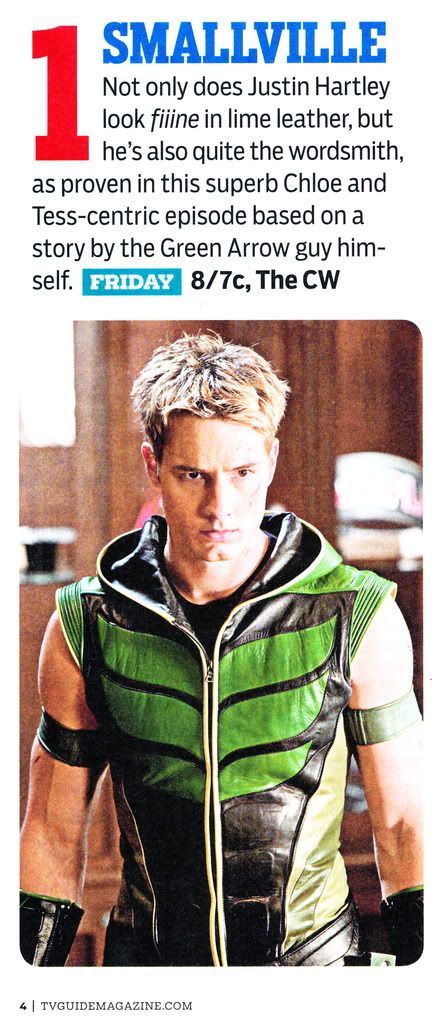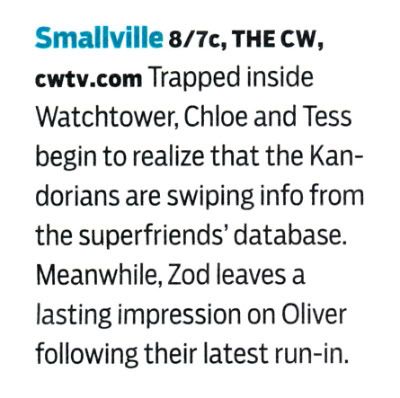 I do, however, know that Clark is indeed in
Sacrifice
, because we have a still to prove it.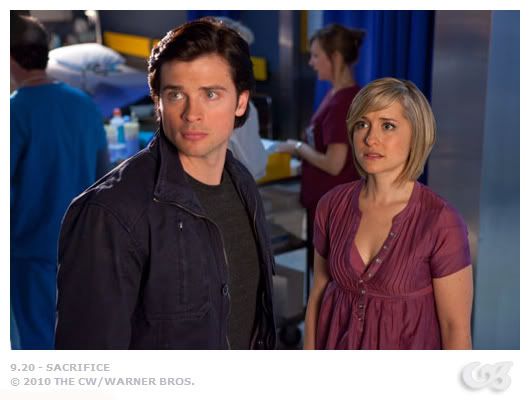 In other news, the CW has issued a press release to promote their upcoming May Sweep schedule. Their focus for Smallville seems to be on Chloe, Clark, and Zod, in that order, with no mention of Oliver or Lois.
Friday, April 30

SMALLVILLE — "Sacrifice" (8:00-9:00 p.m.)
Tess (Cassidy Freeman) breaks into Watchtower, triggering an elaborate security system that Chloe (Allison Mack) installed, ultimately trapping the two women inside. Clark (Tom Welling) realizes Zod (Callum Blue) has given his soldiers super powers.

Friday, May 7

SMALLVILLE — "Hostage" (8:00-9:00 p.m.)
Much to Clark's (Tom Welling) surprise, Martha Kent (guest star Annette O'Toole) returns to Smallville with her new boyfriend, Perry White (guest star Michael McKean), in tow. Chloe (Allison Mack) helps Clark search for the Book of Rao, which they believe contains information on how to stop Zod (Callum Blue) and his army.

Friday, May 14

SEASON FINALE

SMALLVILLE — "Salvation" (8:00-9:00 p.m.)
When Zod (Callum Blue) and the Kandorians launch their brutal attack on Earth, Chloe (Alison Mack) calls in some old friends to join the fight against the aliens. Clark (Tom Welling) and Zod face off in an epic battle for the control of Earth.
SOURCE
Tags: press release, scans, smallville, spoilers, the cw, tv guide