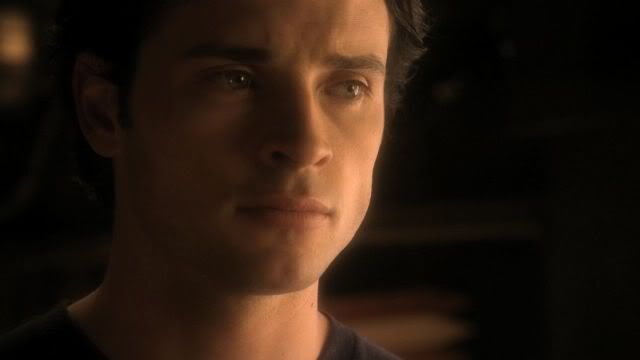 Checkmate burst onto my TV screen like a flashy, oversized comic book, grabbing me and taking me on a thrill ride of an episode that was like nothing I've seen on Smallville before. The teaser set the tone, with cool cinematography, exciting action sequences, a deadly femme fatale, and a charming superhero in green leather. By the time the opening credits rolled I was all in, and enjoying every second of the fun. The episode gave us danger, intrigue, adventure, a dash of humor, and even a hint of romance. Later, unfortunately, it would falter, and stumble, reminding me that seamless stunts and dazzling special effects are no substitute for consistent characterization and good storytelling, but then it came back strong, with an ending I loved. In the final analysis Checkmate may have been a grand experiment that didn't quite succeed, but it entertained me, kept me on the edge of my seat, and left me humbled by the depth of Clark Kent's devotion to the people, and the planet, he loves.

Checkmate was decidedly and disappointingly light on Clark, but what we did see of him was wonderful. This week Clark was in full-on hero mode. He was serious and focused, and it was hard to tell where Clark ended and the Blur began, right down to the clothes. There was no pretense of the innocent farmboy or the mild-mannered reporter, and no doubt about his priorities, or his commitment to keeping the world safe. I was struck like never before by the enormous weight Clark always carries on his shoulders, and the responsibilities he takes on just because those shoulders are so impossibly broad and strong.

When Clark blurred into Watchtower, Chloe was instantly on the attack, but he refused to rise to the bait, brushing her off and turning instead to the problem at hand. I thought that was the perfect response. Chloe's demand that Clark check in with her constantly and await her every instruction was ridiculous, as was her expectation that in addition to watching over all of Metropolis, he should guarantee the safety of his colleagues as well. If you call yourself a superhero and you need a babysitter, maybe you're in the wrong line of work. Besides, Oliver had no problem dealing with his situation, and he certainly didn't come home crying about being abandoned. No, Chloe's obsession with protocols, and Clark's reluctance to follow them, was just another facet of her need to control everything, which was amped up even higher than usual because it was her boyfriend who had fallen off the grid. And there's no point in Clark arguing with her, because she has closed herself off from him, and would never listen.

I do agree that it was Chloe who pulled Oliver's team back together after the events of Doomsday made them scatter, and she is the one who has kept them connected, with the technology at her fingertips, and her relentless monitoring. She plays a critical role in Clark's life, with her access to information and her phenomenal hacking skills. But she goes way too far, puts her own team at risk with her activities, and has completely lost sight of what constitutes moral or ethical behavior. But the deal breaker for me, of course, is the way she treats Clark.

I'm not disappointed in Clark for apologizing to Chloe, even though I don't think he had anything to apologize for. Sure, being Watchtower puts Chloe at risk. But after what happened in Sleeper, no one knows those risks better than Chloe herself, and what she does is her choice. If something happens to her, that isn't Clark's fault. In Checkmate, Chloe made the decision to go to Met Gen, she turned down Oliver's offer of backup, and she put herself in harm's way. And even Chloe can see why Clark would keep her at arm's length lately. But of course Clark is going to feel responsible for anything that hurts Chloe or puts her in danger. That's who he is; that's part of what makes him a hero. The problem was in how his apology, so heartfelt and sincere, was received.

Clark was shaken to his core by how close he came to losing Chloe forever, and he put aside all their differences to express to her how much he cares about her, and how important it is to him to keep her safe. And his outpouring of emotion was met with cold detachment, and the same judgmental condescension we've come to expect whenever Chloe talks to Clark these days. She took Clark's apology as if it were her due, and gave him nothing in return. And you can't even say it's because she's been emotionally damaged by all she's been through; just look at how she smiles and flirts and glows when she's with Oliver! No, the way Chloe treats Clark is deliberate, her passive aggressive punishment for him daring to question her methods, and failing to toe her line. And Clark even understands that about her, and accepts it without censure. I wish I could be so generous.

I had a harder time understanding Clark's actions with Tess. Why is their relationship characterized by violence? Ever since Tess kidnapped Jor-El in Kandor, and pushed Clark over the edge into revealing his powers to her, their every encounter has ended with Clark manhandling her in some way, or at least threatening to. Is Clark trying to intimidate Tess into keeping his secret? Has he decided that playing rough is the only way to get through to her, or do her games just frustrate him beyond the point of control? I could justify each of the other times in one way or another, but this one seemed particularly brutal, and much more gratuitous. It made me cringe. Or was that just my gender bias showing?

I was impressed with how Clark held his own with Amanda Waller. Anyone who can make Tess Mercer hang her head in shame like a chastised little girl is a force to be reckoned with, and the way she rattled off the names of everyone who plays in the Watchtower clubhouse was positively chilling. Pam Grier was once again awesome, and she endeared herself to fangirls the world over when she spoke for us all to Clark: "You sure are nice to look at." Waller tried threats and manipulative mind games (always my first choice to win someone's loyalty) to get to Clark, but even though her barbs hit home, she was unable to make him bend to her will. Even if Oliver hadn't shut down the power grid, I have no doubt that Clark would have found a way to save the day.

The scene where Clark rescued Chloe was AMAZING. Beautifully conceived and flawlessly executed, it took my breath away. It was visually stunning, and delightfully different for this show. I would love to see a DVD extra showing us exactly how it was all done. The ambitious imagination that dreamed up that sequence, along with many others in the episode, is what made me appreciate Checkmate, in spite of its flaws.

More and more lately we see Clark acting independently, and I like it. Chloe wants him to play by her rules, but the last thing he needs to do is relinquish more power to her. I think it's time for Clark to step up and take a true leadership role. What Checkmate brought home to me is that Clark operates on a completely different playing field than his friends. He has important work to do, and he doesn't always have time to wait for the rest of the team to catch up. He has the safety of the entire planet to consider, today and for all time. While Chloe and Oliver celebrated her escape from Checkmate, Clark went home to spend the night contemplating the future, and all the dangers it holds, and that's where Martian Manhunter found him as dawn broke over the farm. Their quiet conversation, hero to hero, was a wonderful callback to a similar scene in Odyssey, when Clark first decided to fully embrace his destiny, and now he stands on the brink of his next big step on that journey.

It frustrated me to see even J'onn J'onzz keeping secrets from Clark. Yes, he was trying to protect him, but I'm so tired of that. How about letting him stand on his own two feet for a change? Besides, how many times have we seen people make bad decisions in the name of protecting Clark, only to turn around and blame him when it all goes to hell? I know J'onn would never do that, but Lana and Chloe sure did. Also, Clark is the man we know will inspire people all across the world, and become a symbol for truth and justice on Earth and beyond, and yet not one of his friends trusts him enough to be completely honest with him. What's up with that? We keep hearing about all the great and legendary things Clark will do in the future, the savior he will one day become, but what about now? Isn't it past time to let that hero begin to emerge? As the season comes to a close, the writers stand at a crossroads. Will they finally do right by Clark, and set up the final season I've been dreaming about for years, or will they once again knock him down, hold him back, and make the story all about his defeats rather than his triumphs?

For most of Checkmate, I thoroughly enjoyed Oliver. I am completely charmed by his devil-may-care crime fighter who cracks jokes even in the face of death, and watching Green Arrow in action is always a treat. I especially liked the scenes between Oliver and Tess at the mansion, equal parts funny and serious, their teasing banter underlined by cold fury. I'm not a fan of the Chlollie (and I loved Clark's eye-rolling "get a room" expression at their Watchtower reunion), but Justin Hartley sure knows how to bring the romance. I think he's great in this role, and it certainly doesn't hurt that the man is so easy on the eyes.

Everything changed when Oliver met Tess at the coffee shop, though. Oliver lecturing Tess about betrayal was the height of hypocrisy. When they were together, he cheated on her, and he's still the guy who planted a kryptonite arrow in Clark's back and then just walked away. He was completely unmoved by Tess's tears of regret, and even if you think she was faking it, how smart is it to cut loose someone who not only knows as much as Tess does about everything, but who is also so unpredictable? Even worse, he taunted her after turning her down, and then twisted the knife by adding a threat of his own. But what I hated the most was how he left Tess and went straight into Chloe's arms, happily anticipating jumping into bed with her, without a moment of reflection for the woman he probably just sent to her death. Oliver can be such an ass sometimes.

Tess is a complicated character, and Cassidy Freeman sells every layer and nuance. She has been such an amazing addition to this show! I was sad when we lost Aaron Ashmore last season, but I will be devastated if we lose Cassidy at the end of this one. Right now, things aren't looking too good. I've been seeing parallels between Tess and Chloe all season, but their stories look like they're headed for very different endings. Sure, Chloe isn't as bad as Tess. She doesn't kill people in cold blood. But she wields her power with the same arrogant disregard for anyone's agenda but her own, and keeps just as many secrets along the way. Was it just coincidence that Tess and Oliver met at the exact same table where Chloe and Oliver had their meeting in Roulette, or was that Smallville's subtle way of pointing out the contrast between the two women? I'm very much afraid that Chloe, like Oliver, will get a free pass on all her questionable behavior, simply because she's one of the "good" guys, while Tess will be condemned.

I was so happy to see Martian Manhunter return this week, and play such an important role in the episode! He is at the top of my wish list for S10, right after Martha and Perry. And of course Phil Morris gave us another perfect performance. It was especially cool to see so many of MM's powers in action, and his face-off with Amanda Waller was sublime. But most of all I loved seeing J'onn with Clark. Their dynamic is always so heartwarming, even when they don't agree about everything. Clark needs more friends like him. And this mysterious Red Queen J'onn is working for? I'm thinking it must be Martha. Somehow I can't imagine him deferring to anyone else over Clark except his mom. :D

Random thoughts: Tess's bat chute was awesome, and I loved the shot of her booted feet walking by newspapers trumpeting the falling crime rate. This week Oliver seemed to get all those patented Smallville lines. My favorite? "One minute I am saving someone's bacon, next thing I know, I'm the only pig on a pork chop express." Even Clark didn't know WTF he was talking about!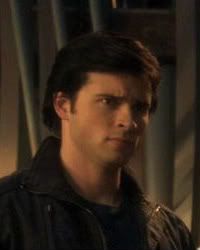 Finding Checkmate agents isn't as hard as some people think. Just look for anyone with a black and white chess set prominently displayed, especially if there's one piece missing. In spite of his hostility whenever they meet, I still think Tess would have been better off going to Clark. Why did Amanda Waller want a copy of Tess's physical? And Louis Febre's score for Checkmate was my favorite so far, enhancing and enriching every moment we saw onscreen.

A lot of people hated Checkmate, and I can totally understand why. One bad scene can ruin an entire episode for me, and this one had several that made my head want to explode. But there was so much that I loved, too. Tom Welling's performance was stellar: thoughtful and nuanced, with a gravity that is always a part of Clark, but that we don't always see. The big bad was truly scary, the guest stars were glorious, and we were left with some intriguing mysteries to ponder. The whole look of the episode was unexpected and fun, and I appreciated the effort to give us something truly different. It took me forever to write this review, and I think that's because my feelings for Checkmate are truly mixed, and could still change, depending on what happens next. I have a lot invested in how the rest of this season plays out, Smallville. Don't let me down.

Clark's pretty when he's heroic. Twenty of my favorite screen caps from Checkmate: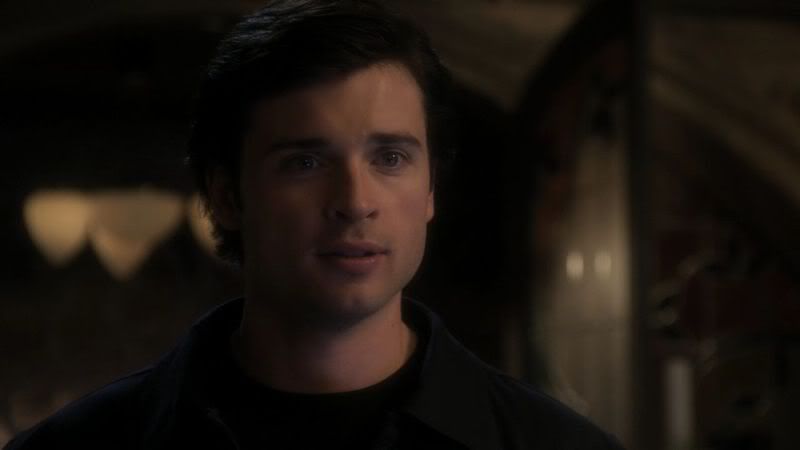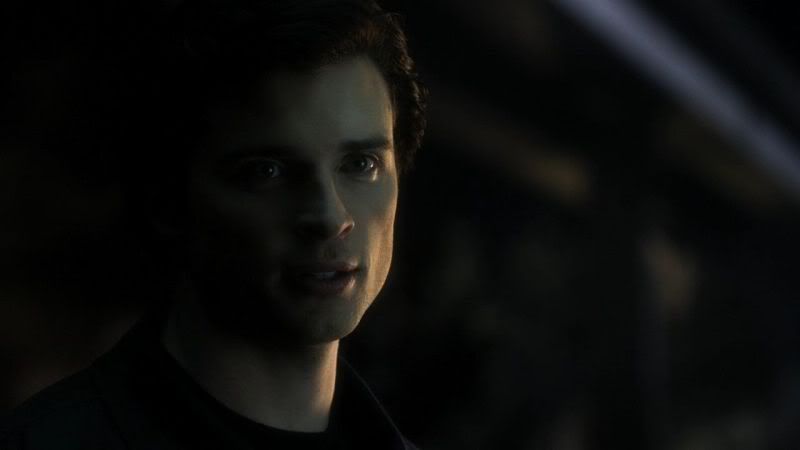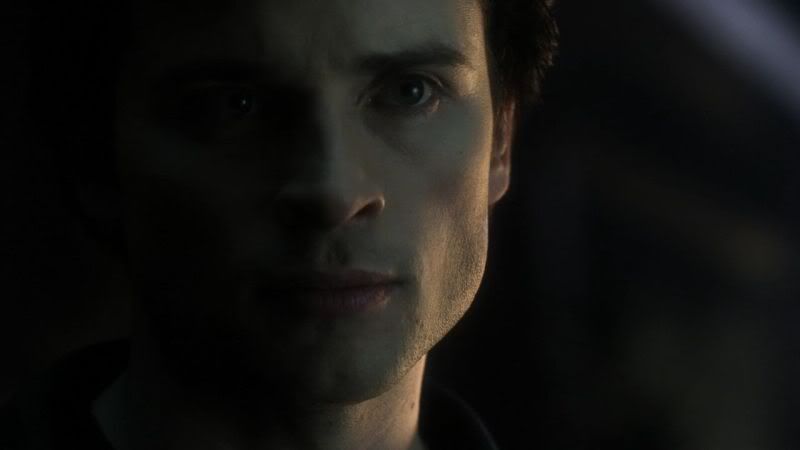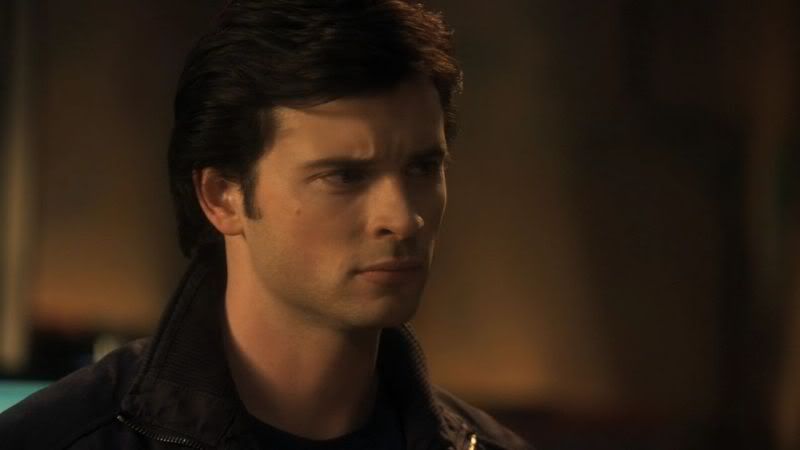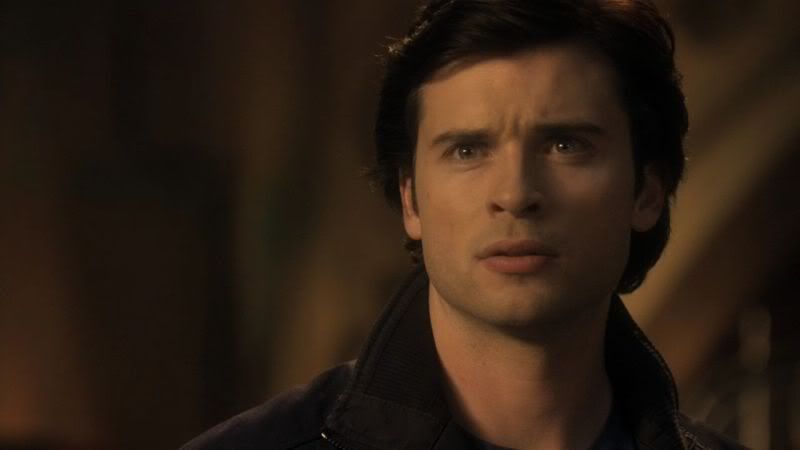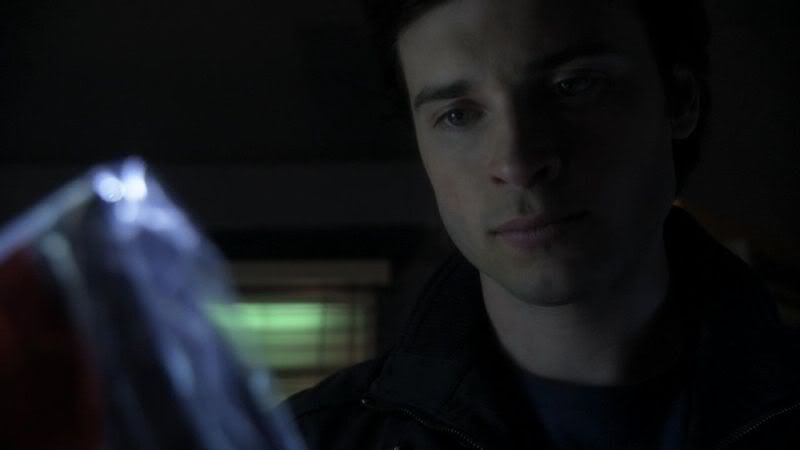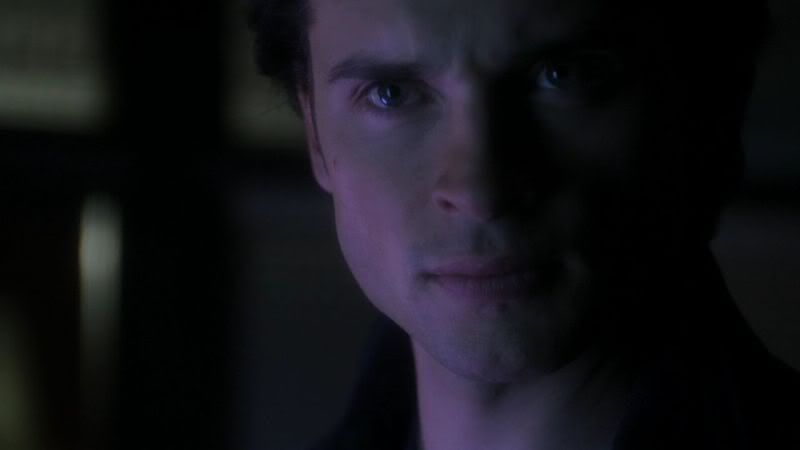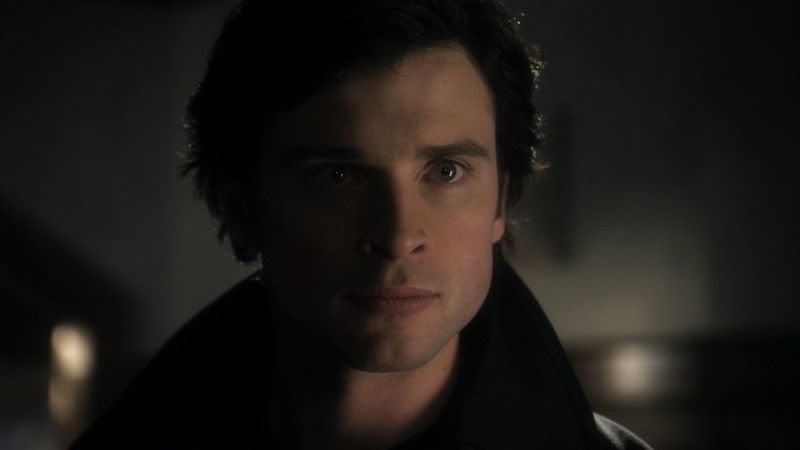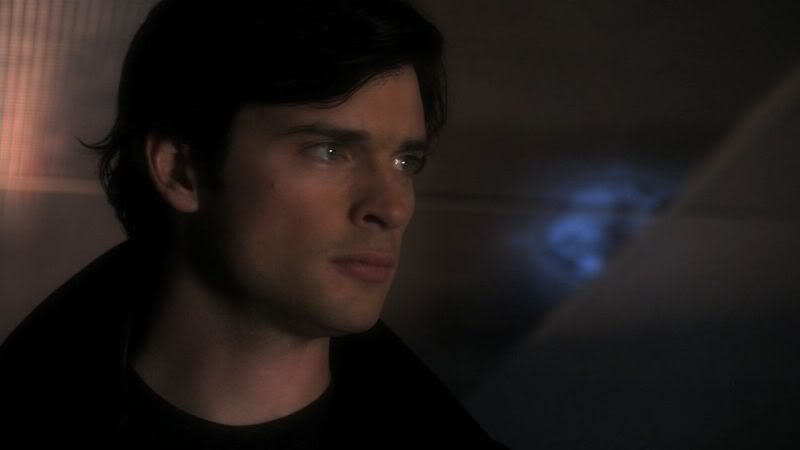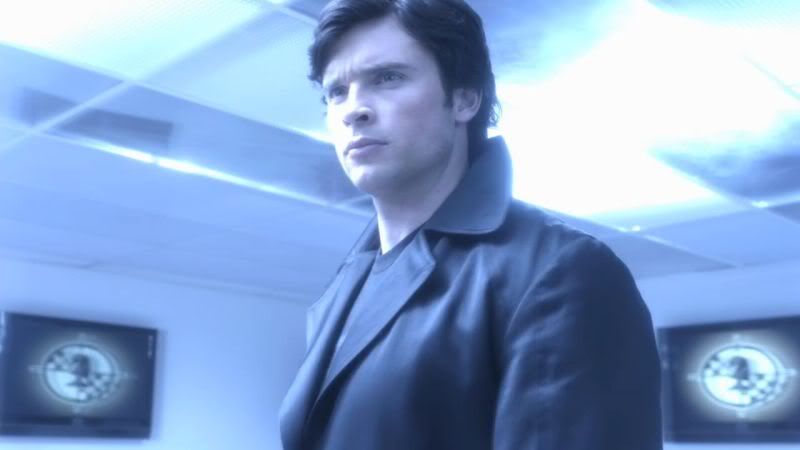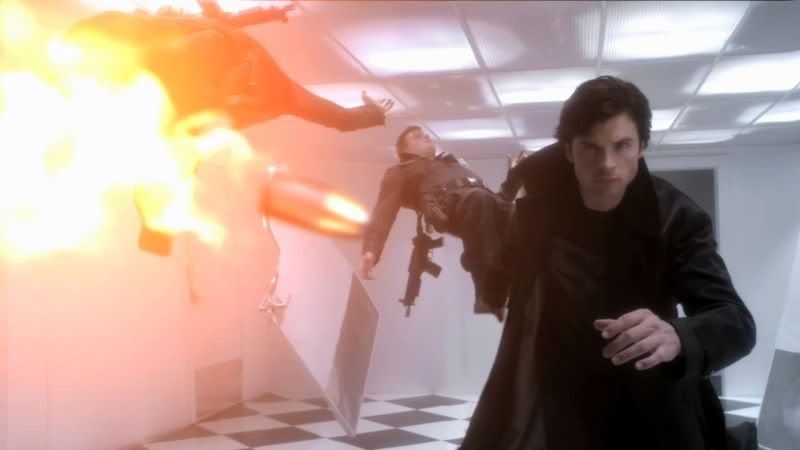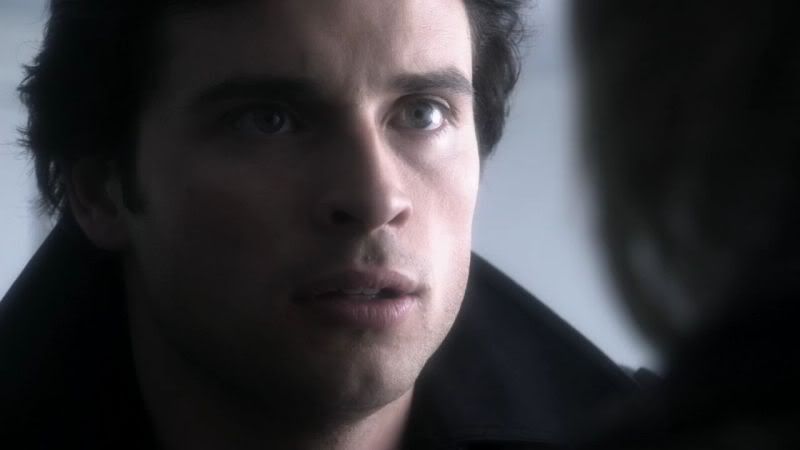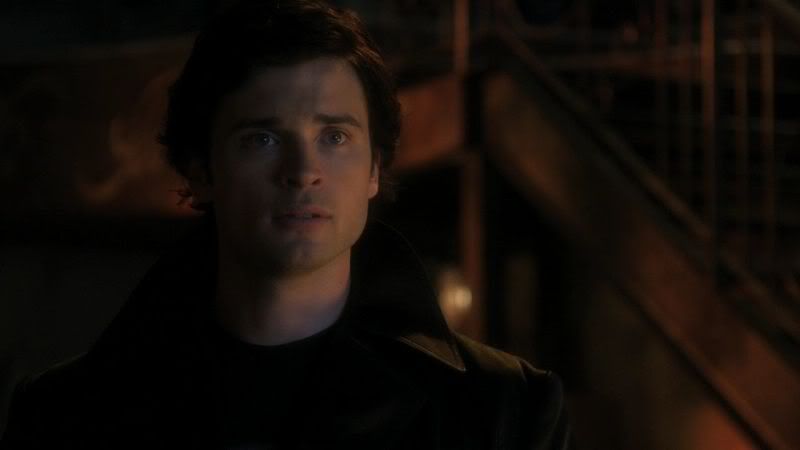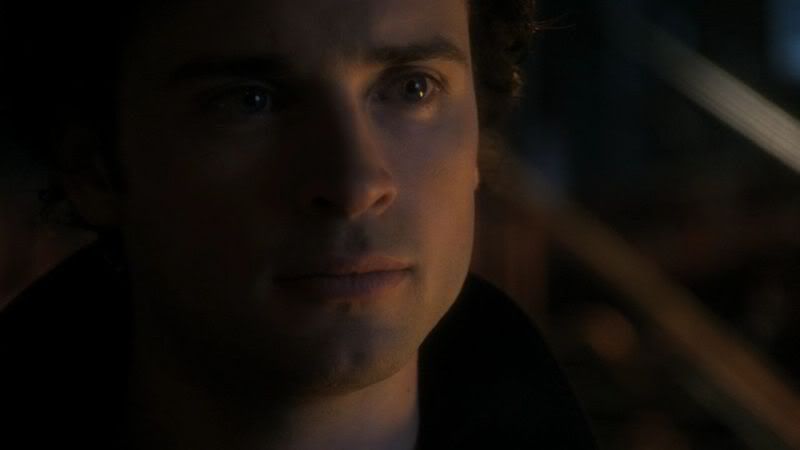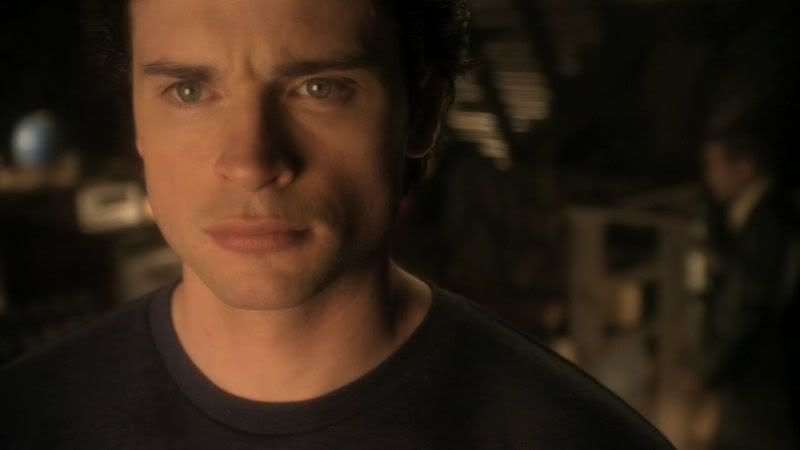 Screen caps courtesy of

Home of the Nutty

, with my thanks!