I have no clue about the reliability of this source, but she's reporting that my boy Ben Browder has been cast in Hellcats, presumably as Red. I can't even wrap my mind around this news. Can anyone verify if it's true?

In other pilot castings, Ben Browder, repped by Gersh and Hank McCann, rounds out the series regular cast of the CW's Hellcats.



SOURCE






It also looks like Elena Esovolova is playing Patty. Guys, do you know who that is? Starla from Tall Tales! And I mean Sam's version!




Here's her official pic from IMDb:




At the 2010 Sea to Sky Cheer Championships in Vancouver:




ETA: The Futon Critic confirms Ben's casting! Yay! \o/ *changes icon to applauding Tommy*

HELLCATS (The CW) - Ben Browder ("Stargate SG-1") has joined the cast of the presentation, a drama set in the world of competitive college cheerleading. He'll reportedly play Red Irvine, Lancer University's football coach, "a handsome rogue who never lost the boyishness of youth." He and the Hellcats coach Vanessa Hodge (Sharon Leal) share a history - they had an affair while he, then married at the time, was an assistant coach and she was cheer captain - and now he wants payback (she dumped him after he left his wife without telling her) in the form of getting her fired after one of the Hellcats (Heather Hemmens) gets hurt. Aly Michalka, Ashley Tisdale, Gail O'Grady, Matt Barr, Robbie Jones and Sofia Vassilieva also star. Allan Arkush is directing the CBS Television Studios/Warner Bros. Television-based project from a script by Kevin Murphy.



SOURCE



They're still listing Sofia Vassilieva as Patty, but I'm pretty sure that's wrong. I still think she's way too young for the part, and besides, this appears to be Elena arriving at Sea to Sky with Ashley on Sunday: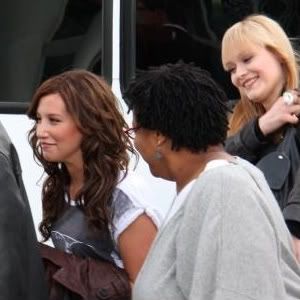 ETA2: The Futon Critic has now updated their information to reflect the latest casting news:


SOURCE