Evidently Michael Rosenbaum recently spoke to a reporter from the Evansville Courier & Press in Indiana, to briefly discuss his new project for Syfy, and his new production company, Rose and Bomb Productions.
Rosenbaum 'Zeros' in on conventional wisdom for SyFy
Newburgh native developing new show for network

By Nicole Nolan
Posted April 4, 2010 at 12:35 a.m.

Actor Michael Rosenbaum, raised in Newburgh, is in the developmental stage of creating a new show for the SyFy network.

Rosenbaum incorporated personal experiences from the set of "Smallville" and various sci-fi/comic book conventions into "Saved by Zeros," a show that dives into the unexplored world of what he calls the "non-terouge" — the world of an actor outside of the business.

"It gives some insight into a world that no one really knows about," Rosenbaum said.

The plot revolves around two actors, played by Rosenbaum and Jonathan Silverman, who find themselves out of the business with nothing but sci-fi/comic book conventions and devoted fans.

The what-if scenario of Rosenbaum being Lex Luthor with a shaved head and hair that wouldn't grow back after the show is canceled in its second season really put him in the frame of mind to mold the concept of the show.

"When I was on 'Smallville,' it opened up a whole new world," Rosenbaum said. A self-proclaimed nerd, he was able to attend conventions worldwide and found many devout followers.

He said the show is a tribute to fans but also would be self-deprecating, fun, touching, outlandish and dark.

"It shows you how important they are," Rosenbaum said of the fans. In "Saved by Zeros," even after everyone has left these two characters, they still have their devoted fans.

"Science fiction fans are the most loyal fans out there," Rosenbaum said.

Each episode will be a step in the journey of these two characters, and although they may not all end on a positive note, Rosenbaum hopes the show strikes audiences as more real life.

"I think every actor out there, every success story, it all stems from the fans," Rosenbaum said.

Rosenbaum has kept busy since his role as Lex Luthor on "Smallville."

"One of the great things about being on a show for a while is you have a certain freedom," Rosenbaum said of the income and fame that accompanied "Smallville."

In the past year he created Rose and Bomb Productions and shot his first project under the new production company a couple of weeks ago. He has also finished filming his role in the upcoming film "Father of Invention," starring Kevin Spacey.

Despite his busy schedule, he makes an effort to return to Newburgh twice a year to visit family and friends. A Castle High School and Western Kentucky University graduate, he tries to stay close to his roots.
SOURCE
Who else but Michael would create a show about how loyal and important fans are? And how brilliant is that? It's a show about us, of course we're going to watch! :)
ETA: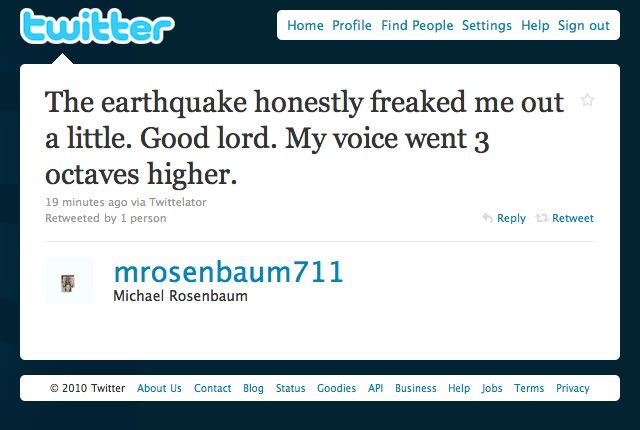 ETA2:
The reporter for the above piece posted on her blog about what a wonderful time she had interviewing Michael! I swear, it's impossible for me to love this man more!
But, little did I know that I would be given the chance to talk to a famous Hollywood actor. I had the chance to talk to Michael Rosenbaum, the man who took on the role of Lex Luther in the TV series Smallville. He is a Newburgh, Ind. native, having graduated from Castle High School and Western Kentucky University. Since he is creating a new show for the SyFy Network, we did a little piece at the Courier & Press highlighting his recent achievements. I had the chance to talk to Rosenbaum on the phone and found a really down-to-earth guy who I could have just bumped into on the street in front of Target. I didn't get the feeling that he felt a sense of entitlement or arrogance after his success on Smallville. And what is great is that this new show he is piecing together is a sort of tribute to his fans.
SOURCE
Tags: interview, michael rosenbaum, rose and bomb productions, saved by zeroes