The rumors are confirmed! From The Futon Critic:
HELLCATS (The CW) - "High School Musical" alumna Ashley Tisdale has joined the cast of the presentation, a drama set in the world of competitive college cheerleading. She'll play Sierra Sloane ("a petite and peppy Texan with fierce intensity"), the captain of the Lancer University Hellcats. Aly Michalka and Gail O'Grady also star in the project, which was penned by Kevin Murphy. CBS Television Studios, Tom Welling Productions and Warner Bros. Television are co-producing.
SOURCE
From The Hollywood Reporter:
Ashley Tisdale to co-star in 'Hellcats'
Actress-singer will play cheerleading team captain
By Nellie Andreeva

March 18, 2010, 02:50 PM ET

In her first regular broadcast series gig, actress-singer Ashley Tisdale has signed on to co-star on the CW pilot "Hellcats."

"Hellcats," which is executive produced by "Smallville" star Tom Welling, centers on Marti (Aly Michalka), a college girl from the wrong side of the tracks who, after losing her scholarship because of budget cutbacks and her mother's (Gail O'Grady) chronic irresponsibility, joins the Hellcats, the college's competitive cheerleading team.

"High School Musical" alumna Tisdale will play Sierra, the peppy and fiercely intense captain of the Hellcats who, after an initial clash with Marti, her new roommate, realizes that she just might be the godsend the Hellcats need to win the championship.

Like Michalka, who starred on Disney Channel's "Phil of the Future," Tisdale has also become a star on Disney Channel.

In addition to her role as Sharpay Evans in the "HSM" franchise, she also co-starred on the channel's comedy "The Suite Life of Zack and Cody" and voiced a character on "Phineas and Ferb."

On broadcast TV, she did an arc on the CBS sitcom "Still Standing."
SOURCE
From Hollywood Insider at EW.com:
Ashley Tisdale joins CW pilot about cheerleaders
by Lynette Rice

Mar 18 2010 02:58 PM ET

Ashley Tisdale has finally graduated from high school! The CW confirmed today that the High School Musical alum is joining the cast of Hellcats, a dramedy in the works for fall from executive producers Kevin Murphy and Tom Welling. (Yep, that Tom Welling from Smallville.) Think Bring it On — the ensemble drama focuses on the world of competitive college cheerleading.

Hellcats is one six dramas the CW is developing for its fall lineup. The others include Betwixt (a thriller based on the novel of the same name), Nikita (an update of La Femme Nikita), Nomads (young backpackers earn money overseas by working for the CIA), an untitled project from Amy Holden Jones (about Harvard Medical School students), and an untitled project that takes place in Wyoming (a sudser about a family living on a horse farm).
SOURCE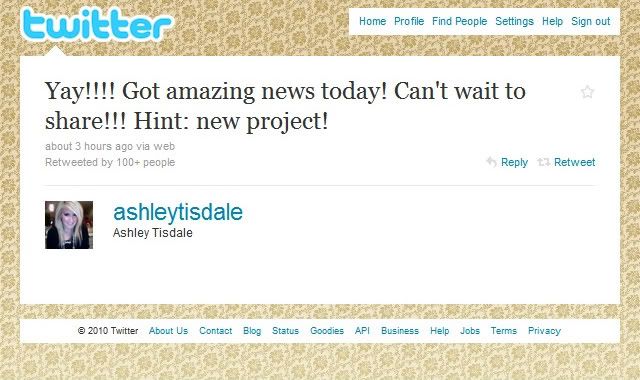 I think this is smart casting. Ashley Tisdale has a pretty big fan following. And I happen to be one myself. :)
Tags: ashley tisdale, hellcats, tom welling productions, twitter