Yesterday we heard the unbelievably good news that Martha Kent is returning to Smallville, and today we find out Perry White is also coming back, and in the same episode! All my Smallville wishes are coming true!
Today's scoop from
The Ausiello Files
:
Exclusive: 'Smallville' is bringing Perry White (a.k.a. Michael McKean) back, too!
by Michael Ausiello




Could Michael Rosenbaum be next?!

On the heels of my scoop that Annette O'Toole is returning as Ma Kent, executive producer Brian Peterson confirms to me exclusively that Smallville is also bringing back Michael McKean as Perry White at season's end.

"We're thrilled to have Michael back on the show," says Peterson, "and to be able to link it with the anticipated return of Martha Kent is just a phenomenal way to gear up to the end of the season."

Peterson also reveals that the iconic character's latest trip through Smallville will bring him "closer to his destiny" than ever before, adding, "We finally get to see the legendary introduction between Perry White and the intrepid Lois Lane."

O'Toole and McKean (who, as you know, are married in real life) will appear in this season's penultimate episode (No. 21).

What say you Smallville fans? Stoked beyond belief? Do you think/hope Lex will be next? Sound off below!
SOURCE
And in case you missed it, here is yesterday's announcement:
'Smallville' exclusive: Martha Kent returns
by Michael Ausiello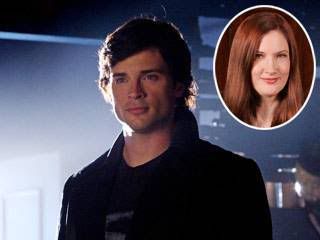 Martha Kent is winging it back to Smallville, and word is it's not to dispense motherly advice.

Sources confirm to me exclusively that Annette O'Toole has inked a deal to reprise her role as Clark's mom later this season.

Producers are still working out the exact timing of Martha's reappearance, but a Smallville insider tells me it'll most likely fall during May sweeps. That same source hints that the mother-son reunion will be rocked by an "unexpected surprise" or two.

O'Toole last appeared in season 6 when Martha moved to Washington to become a U.S. senator.

Thoughts? Have you missed Martha? Do you hope she'll stick around for more than one episode? Care to guess what the "unexpected surprise" is? Sound off below!
SOURCE
Here's a promo pic of the happy couple taken during the filming of Perry (click for bigger):
They never shared a scene in that episode. I wonder if they will in this one?
Tags: ausiello, smallville, spoilers