At the TCAs today, CW president Dawn Ostroff talked about Smallville's chances of being renewed for a 10th season. Basically she said things are looking good, but they're not guaranteed. But the way she said it drives me crazy.

From The Ausiello Files:

Exclusive: 'Smallville' season 10 a done deal?
by Michael Ausiello

Not quite, but CW president Dawn Ostroff tells me she is feeling very optimistic about the show's renewal odds.

"I'm really pleased with the show," she says. "Creatively, I think they've done a great job. And the ratings are [strong] on Friday night. I have to commend [the producers]… It's not easy in season 9 to keep a show fresh. And you know what I think? The fans have really liked the show this season.

"I don't know which way we'll go," she continues, "but if you would've asked me [over the summer whether it would end this season] I would've said, 'Oh, probably.' But I can't say that now."

In the meantime, Ostroff says Smallville producers Brian Peterson and Kelly Souders "haven't even pitched us the last episodes yet, so we haven't even gotten to how we're going to deal with the last episode and whether it's a season finale or series finale. But right now, I think it's just a season finale."



SOURCE



From IGN:

Will Smallville Return for Season 10?
The CW's president updates us on the show's current status.
by Eric Goldman

January 9, 2010 - When Smallville was moved to Friday nights, many fans assumed that was a definite sign the show was going into its final season. However, the show has held its own on that typically difficult night, and went up in the ratings as the season progressed. Comments by the executive producers have hinted there is a very good chance now the show will return.

At the TCA (Television Critics Association) press tour tonight, I spoke one-on-one with Dawn Ostroff, the President of Entertainment of The CW Television, and asked her for a status update on Smallville. We also spoke about the upcoming "Absolute Justice", which will introduce the Justice Society to Samlvlille. In what could be seen as another positive sign, "Absolute Justice" went from two separate episodes to being paired together as a larger TV-movie event.

IGN TV: What is the status of Smallville now, as far as another season?

Dawn Ostroff: I think creatively, we've been happy with the show. And it's gotten to the point where Friday nights have improved for us, so it looks good. But we don't know, because it's really too early. It's January and we don't have to make these decisions until May. But it's increased our adult 18-34 and it certainly has increased our men 18-34 on Friday nights. Creatively, I think it's been in a good place. I think Tom [Welling]'s still having a good time with it. I think he's enthusiastic about it. So, we'll see where we are a few months from now.

IGN: How did the decision come about to turn the two Justice Society episodes into a single night event?

Ostroff: We really wanted to give Smallville an eventized night, so we could really bring attention to it. We try and do it for all the shows, depending on where they are in the cycle of the storytelling. And it just kind of came together. Kevin Levy, who works for us in scheduling and is a real Smallville fan, came up with the idea and said, "Look, this is going to be two big episodes. I think Smallville fans will make it appointment viewing. They won't want to miss it if we put these episodes together," and that's how it all came up. And I think he was right about that.

IGN: As far as making the decision on a renewal, when the writers go toward the season finale, creatively, how much will they want to leave the window open?

Ostroff: I think it's definitely the big question. Clearly, we're going to have a great season finale, as we would for any year, and whether or not it will be a show finale, we don't know yet. We haven't really talked about it, because they're not that far along yet in the storylines, but I think it will be a good season finale for sure. And if the show doesn't come back, I think it will be a sort of really last minute decision, because either development [for new series] was great or the show wasn't doing as well on Friday nights. But we still have a whole half a season to go before we have to determine that.



SOURCE



And to put the time line in perspective, the Smallville writers posted this on Twitter last week: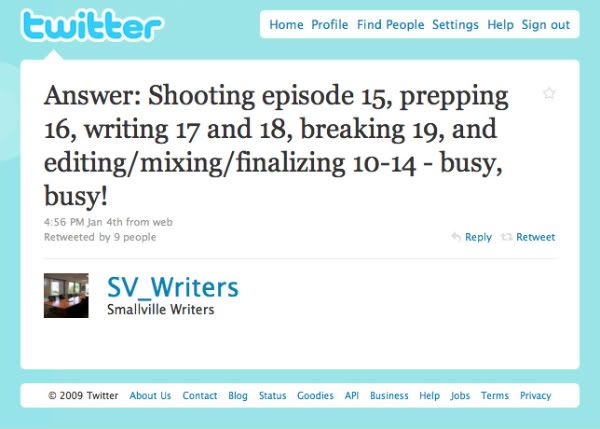 My thoughts:

I get that a television network is a business, and that these decisions are dollar-driven, but the complete lack of regard for the long-time fans of this show is disheartening nonetheless. After all these seasons, what I want more than anything else is a satisfying conclusion to Clark's story, an arc (not an episode or two at the end) that focuses on Clark and his journey, from Clark's POV, and that shows us how and why he chooses to become Superman. Clearly we're not getting that in S9. I think we could see it next season, if Tom puts his foot down and tells TPTB right from the start that S10 is his last, but whether or not we'll even have that chance hinges on if DO thinks she has something new and shiny waiting in the wings, and she's reserving the right to wait until the last possible moment to make that decision.

As much as I love seeing Tom Welling on my TV screen each week (and you know I do), the bigger reason I'm hoping hard for S10 is for the story, and the ending this show has both built toward and stalled against for years. Without it I'm afraid I will be left forever wanting, and totally disappointed as a loyal fan of the show. I know some of you already feel that way, betrayed by what did or didn't happen with Lex, or Chloe, or Clark himself, but I still love this show, I still watch, and I'm still waiting for the payoff I think we all deserve. I know it's unrealistic of me, but I wish television networks could take other factors besides ratings and revenues into consideration when making a decision about renewal. Or in Smallville's case, at least when setting a deadline for that decision. Reading what DO said today, I am struck anew by the irony of how our access to creative expression is so often dictated by the cold and calculating crunching of numbers.

So what do you think? Do you want to see Smallville get another season? Why or why not? Do you think I'm crazy to hope we might ever get a happy and uplifting ending to Clark's story, and finally see what leads him to fully embrace his destiny? If you watch the show for Tom, as I do, do you hope for cancellation so he will move on, even if it means he disappears behind the camera, or would you rather hedge your bets and have at least one more year to enjoy his acting? And is anyone else as frustrated over this as I am?