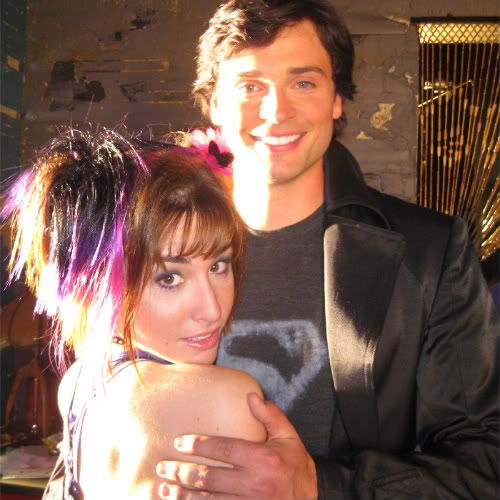 I just finished listening to another great podcast from SHoE. This one was all about last week's episode, Idol, and included an interview with Allison Scagliotti, who played Jayna, one half of the Wonder Twins. The episode discussion was especially interesting this week. They talked a lot about the Lois and Clark relationship, how close Clark is to becoming Superman, and how perfectly Tom Welling portrays the hero. Smallville fans should definitely check it out!

You can download the podcast at the Starkville House of El Podcast web site, or it's available for free on iTunes (look for episode #136). I really recommend you listen to the whole thing, but it's long (over two hours), so if you're pressed for time at the moment, the interview starts at about the 45:40 mark, and the episode discussion follows after that.

I have transcribed my favorite part of the interview, where Allison mentions Tom, below.

Allison: Everyone at Smallville was so cool. I think Allison Mack was my favorite, because she was just, she's so smart, and she's such a great actress, and adorable! Hello with the girl crush!

Steve: You worked with her, and you got to work with Tom.

Allison: Tell me about it!

Steve: How'd you handle that?

Alison: I wanted to fold him up and put him in my scrapbook, I tell you.

Steve: He seems to have such a nice presence, though. He was at Comic-Con this past year, and I wasn't there, but everyone that was there at the panel that he got to come on, and the way they said he responded to the fans, and everyone we've spoken with that's been in and out of the show have just talked about just how nice of a guy he is. Is that what you found about Tom?

Allison: He really is! I mean, it's an incredibly refreshing thing to meet someone who's been playing this number one iconic character for such a long time, is as blisteringly handsome as he is, with seemingly no ego about it. I mean, I could easily just be like, oh, yeah, he was great, really nice guy, and then, like, give you a wink on the side, which I've had to do before. But, no, I was really, really impressed by how just down to earth and normal Tom was. He was really, really cool.

How can you not love this man? :) Some of the other things Allison discusses during the interview are the research she did for the role, the deleted scene we saw in the promo pics, working with David Gallagher, who played Zan, and the fan reaction to the news that the Wonder Twins were coming to Smallville.